Some of the information in this guide may differ as a result of COVID-19, please refer to the  Employees | COVID-19 page for updates.
Quick Links
Vision
Mount Royal University: an exceptional undergraduate educational experience.
Mission
Since 1910, Mount Royal has built a reputation on a strong, liberal education foundation with an undergraduate focus. More than a century later, we remain responsive to the needs of our community through our enduring commitment to this legacy.
We are a community of engaged citizens, providing personalized, experiential and outcome-based learning in an environment of inclusion, diversity and respect. Through our focus on teaching and learning informed by scholarship, we are preparing our graduates for success in their careers and lives.

Our history

The College...should be a place where the spirit is more important than the letter, where teacher and student co-operate in a common endeavor to learn...

- Mount Royal College Board, 1914
In 1911, Mount Royal College first opened its doors to 179 students. Since then, Mount Royal has grown into a renowned university and a beloved Calgary institution, welcoming nearly 15,000 credit students each year.
Much has changed during the past century. What has never changed is our fierce commitment to teaching excellence. We've built our reputation on providing our students a world-class undergraduate education within a small school environment.
More than a hundred years after it was written, our founders' vision for Mount Royal still rings true: we are a community drawn together in a common endeavour to learn.
Our future
Dedication to excellence in undergraduate education continues to set the path for our future. This means:
expanding the number and variety of degrees offered
increasing the size of our student population
continuing to transform our campus through the completion of the new Riddell Library and Learning Centre and other developments
Our goal is to build on our reputation as one of Canada's finest undergraduate universities, while maintaining and strengthening our community feel.
Our vision is ambitious, and we need your help to achieve it.
---
---
---
---

Teaching and learning resources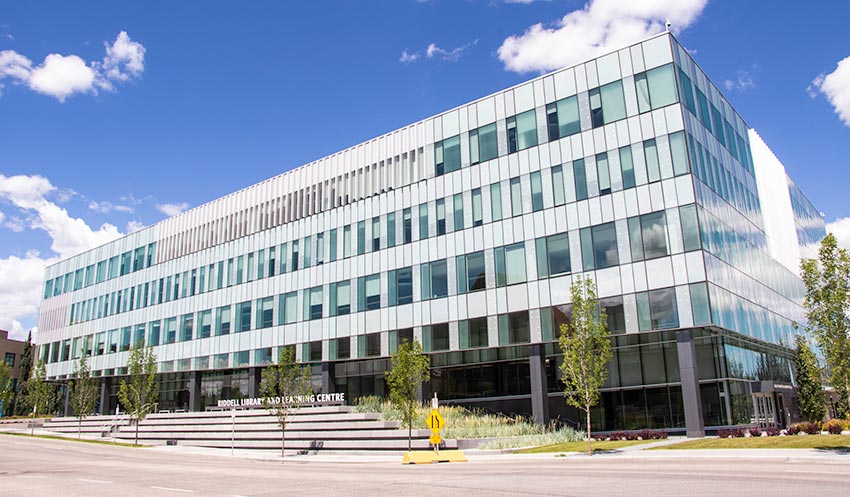 ---
Campus safety
Security Services responds to alarms and accidents, provides emergency first aid and responds to unusual activity on campus 24/7.
360-degree, high-resolution cameras can be found across campus, and help stations — called Code Blues — can be found in nine different outdoor locations. The new stations include cameras and two-way communication capabilities to connect you directly to Security Services.
MRU Now Emergency App
Download the app on your mobile device to receive real-time notifications about campus emergencies, report safety concerns, connect to Wellness resources, request Safe Walk, and more.
---
Human Resources offers a range of programs and services promoting overall health. 

Health services on campus
---

Unwind with some of Calgary's finest recreation and performance facilities - right here on campus!
The Conservatory
Learn an instrument, play in an orchestra or sing with a choir! The Conservatory offers music and speech arts programs for students of all ages. As the largest institution of its kind in Canada, the Conservatory is unparalleled in the breadth and scope of its programming. Whether you're a complete beginner or an expert, there's a place for you at the Conservatory.
Recreation
Gain energy, clear your mind, interact with coworkers and have fun in Mount Royal's outstanding Recreation Centre. Access is free for members of the MRSA, the MRFA and the management/exempt group and is offered at a reduced rate to other employees and to family members living in the same household.
---

Make a difference! Enrich your Mount Royal experience and share your unique passions, expertise and interests with others on campus.
Check out campus events
There's always something happening at Mount Royal!

Give to Mount Royal
Empower students to achieve more than they had dreamed possible. Consider a one-time gift or donate through payroll deduction.
Volunteer at Mount Royal
Community engagement is a great way to meet students and employees from across campus while building new skills. From welcoming new students at Orientation to celebrating achievements at Convocation, there are countless ways to get involved.  Watch the campus newsletter, Our Community, for volunteer opportunities throughout the year.
Join a committee! The MRFA and MRSA welcome employees dedicated to improving the Mount Royal experience for faculty, staff and students. To find out how you can get involved, talk to your supervisor or your association.
---

All members of the MRFA, MRSA and management/exempt groups are eligible for the following perks, unless otherwise noted.
 Complimentary recreation access
Enjoy the salt water pool, fitness centre, squash courts, gymnasiums, indoor track, climbing centre and other amazing recreation services.

Child Care Centre
Looking for quality child care? The Child Care Centre offers on-campus, play-based child care and preschool programs for children aged 19 months to five years. Space is limited.
Leaves and sabbaticals
Full-time faculty and employees may qualify for a leave or sabbatical. Check your collective agreement or policies for details about opportunities and eligibility.
Professional development
Review professional development opportunities on MyMRU's  Employee Training tab. Check your collective agreement and policies for details and eligibility requirements.
Software and hardware discounts

Home and automobile insurance discounts

---

Know the policies that protect the freedoms and rights of faculty, staff and students and ensure a safe, inclusive and equitable working environment.
Freedom of Information and Protection of Privacy (FOIP)
Understand how FOIP legislation may affect you in your role at Mount Royal.
ConfidenceLine
This is an alternative, anonymous reporting tool available 24/7 online or by phone, providing access to an independent third party and ensuring your anonymity if reporting concerns about sensitive workplace issues.