Mariya Svishchuk, Associate Professor, Department of Mathematics and Computing
---
On her students
"I know 99 per cent of students' names, and I know their stories, their strengths and weaknesses. I feel a personal bonding between me and my student.
"I value this relationship with my students, and I can tell you that somehow they feel my energy the way I want them to. If I need their help, they always say yes. I am responsible for a mathematical competition at Mount Royal named Math Kangaroo. That's a big event because we have approximately 450 to 500 students from Calgary in grade one to grade 12. And so we need lots of individual leaders, proctors, markers. I'd say to my students, 'I need your help,' and they would come. They don't have to, but they do it."
"I'm not a final product. I'm developing myself, and every semester even if you teach a course for the fifth or tenth time, it's new: new cohort of students, new background, different background - and different you. I hope I will not stop developing myself here through my teaching, my students. They are the most influential part of myself here, of my personality.
---
On finding her place at Mount Royal
"This feeling of belonging didn't come up at once. I remember the first day: I felt like a stranger. Slowly, slowly, slowly I started to know people. MRU has a very good orientation, which I went through. It helped me a lot. The most help I got was from my students. I'm not shy to ask language or cultural questions. I started to build my connection to my students, my colleagues. I never had a rejection. I always had advice from people. This is how I became a member of Mount Royal."
---
On her teaching philosophy
"My teaching philosophy is a backward learning philosophy. Thinking about my students, I ask myself what would be the way to understand in this difficult moment in my high-level mathematics. If you just close your eyes, you know nothing, just a little bit, and on that little amount of knowledge you have to build something very firm. If you can do this, you can teach on a high level. It is a long process of understanding your students, sometimes like a psychologist - how do they think, what stops them, why are they stuck? Place yourself on their spot to find the exit from the situation."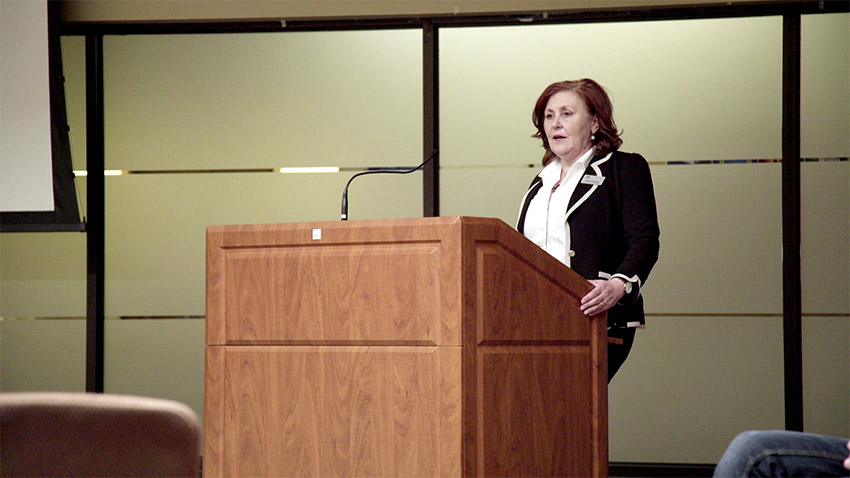 Mariya Svishchuk addresses parents and students at Math Kangaroo, a math competition for children from grades one to 12.

---
On her colleagues
"What I value in my colleagues is first of all, patience. They listen. I've never had a situation where my colleagues would reject an issue that we wanted to resolve. I always feel their support.
"I find light in the smiles of my students and conversations with my colleagues."
---
On lifelong learning
"I always wanted to play piano, but I couldn't because my family couldn't afford it. Here in Calgary, we got the opportunity to get a piano in our house, and my daughter learned how to play. I asked her, 'can you teach me?' So I started to play a little bit.
"I started to do sport as well. You go to the gym and your student can be doing yoga beside you. Mount Royal opened my eyes, opened my mind. I felt shy, but I said to myself, 'Okay, that's my student and this is me, and we are doing the same thing together.' I'm proud of that. Skiing - I've never done this before, but I started here. I'm not a pro. Sometimes you even don't expect from yourself that you will step forward and start doing something. I hope I will be able to keep challenging myself."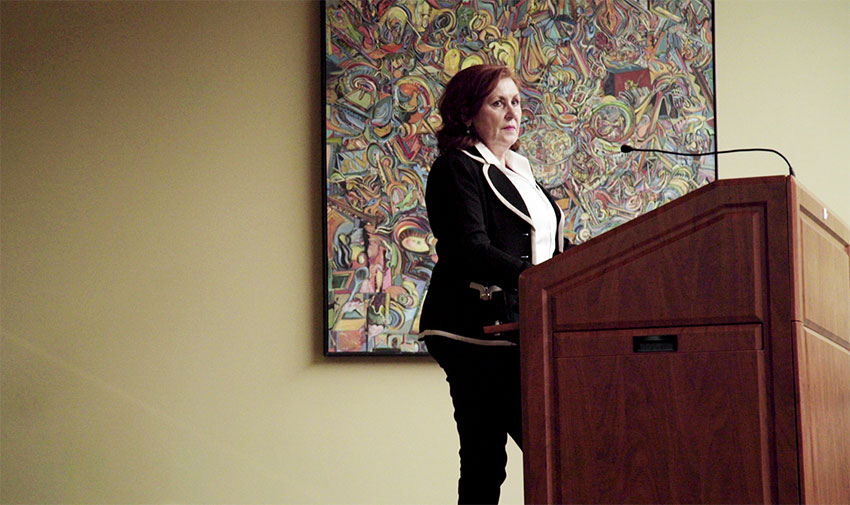 At Mount Royal
---
On the future of Mount Royal
"MRU is a very good place to work. The future will be even better. We all try to make it the best place, and if I can add something to this process of building, I'll be more than happy.
"You can feel proud of some accomplishments if you are part of the team that reaches the goals. If you just stand by watching, it's not the same. You have to move, to do, be proactive. And this is how I feel. Sometimes successful, sometimes not as much, but we keep moving, doing, transforming."