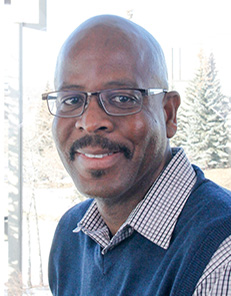 Carlton-James Osakwe
Associate Professor
Finance
Office:
EB 2008
Phone:
403.440.8726
Email:
cosakwe@mtroyal.ca
Degrees

PhD. in Finance, 2001. McGill University. Dissertation title: "Thesis: Essays on Security Design".
MBA in Finance, 1992. Howard University.
B.Sc.Eng, 1986. University of Ife. Thesis title: "Extraction Rates from the Nigerian Tar Sands".
BIOGRAPHY
Determining how the cost of capital for family firms differs from larger corporations, particularly in the realm of information dissemination, forms the basis of some of Dr. Carlton Osakwe's current research. Dr. Osakwe, an associate professor of finance in the Bissett School of Business examined financial securities design as it relates to the issue of incentives for his PhD. His research continues to focus on adverse incentives and real options, specifically regarding the cost of capital for family firms and incentive compatible regulation.

There is debate in the financial community about why family firms tend to perform better than bigger corporations, with some attributing this to the "family effect" -- family members tend to work harder for their own companies. Osakwe believes a better measure is the cost of capital -- if it is, in fact, lower for family firms, their performance should be better.

Currently Dr. Osakwe is building a theoretical framework for his hypothesis using a Grossman-Stiglitz information framework. His model explores whether the cost of capital for family firms is in fact different from other firms and if so, why. His research here, focuses on two factors: the non-monetary benefits derived by family members, and the opaqueness of information prevalent in family firms.
A Model for Evaluating Academic Scholarship: Review and Operationalization of Boyer's Criteria
Lived Experience of New Faculty in a Transitional Institution
PROFESSIONAL ACCOMPLISHMENTS

Recognition and Awards
"MBA Society Award for Outstanding Teaching & Learning". Conferred by Haskayne School of Business, University of Calgary. 2006 - 2007.
"J.W. McConnell Major Fellowship". Conferred by McGill University. 1995 - 1997.
"Beta Gamma Sigma Honor Society". Conferred by Howard University. 1992.
"University Scholarship, School of Business". Conferred by Howard University. 1990 - 1992.

Teaching Experience
Financial Risk Management
Investment Principles
Introduction to Finance

RESEARCH AND SCHOLARLY WORK

Sample Publications and Conference Presentations
.Elliott, R.J., & Nishide, K. (2015). Heston-Type Stochastic Volatility with a Markov Switching Regime. Journal of Futures Markets, Forthcoming (Accepted).
Osakwe, C., Uzoka, F., Fedoruk, A., Kalen, K., & Osuji, J. (2015). ReExamining the Role of the Professoriate in Teaching Intensive Universities in the Context of Boyer's Model. Canadian Journal of Higher Education (Accepted).
Yeo, M., Bennett, D., Merkley, C., McNichol, J., Osakwe, C., & Pada, C. (2010). Experiences of a new faculty in a transitional institution. Collected Essays on Learning and Teaching (CELT), Vol. III.(Accepted).
Osakwe, C. (2008). The Sources of Financing, Risks, and Premiums: Funding Options for Energy Projects. FocalPoint, March, 2008, 11-13.
Osakwe, C.U., & Elliott, R. (2006). Option Pricing for Pure Jump Processes with Markov Switching Compensators. Finance and Stochastics, 10, 250-275.

Community and University Service
2011 - 2012 Bissett Research Council, Mount Royal University, Bissett School of Business (Committee Type: Faculty). Role: Chair. Initiated the development of strategic research plan. The first step was to conduct a research assessment survey which was completed and analyzed by April 2012. Also established the Bissett Research and Scholarship Colloquium.
2008 - 2009 Academic Liaison Committee, Mount Royal University (Committee Type: MRFA (Faculty Assoc.)). Role: Chair. Drafted the charter for the newly formed ALC. Established a pre-GFC meeting session for GFC councillors.