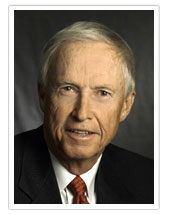 Founder of Bissett Investment Management & Philanthropist
David A. Bissett's success in the financial services industry has been a prologue to his distinguished tenure as a leading philanthropist for a range of causes - education in particular.
He was educated in Halifax, Nova Scotia and received a Bachelor of Law degree from Dalhousie University in 1962. He attained his Chartered Financial Analyst designation in 1975. Mr. Bissett has had a long and successful career in the financial services industry. Commencing as a trust officer with a national trust company in Halifax and Montreal, he moved on to roles in the mutual fund management and brokerage industry with Power Corporation and Vice-President, Investments of a national life insurance company in London, Ontario.
In 1977 he moved to Calgary, Alberta where he managed the western operation for a major Montreal based investment manager. He founded Bissett & Associates in 1982. The firm invested over $5 billion for a broad group of private and institutional investors and sponsors its own family of mutual funds. It employed over fifty individuals including seventeen investment professionals when it was acquired by Franklin Resources Ltd. of San Mateo, California in 2000.
After selling the company, Mr. Bissett became a Director of Templeton Growth Fund, and embarked on his vocation as a supporter of education, community organizations and wildlife habitat preservation.
In 2002, Mr. Bissett donated $5 million to Mount Royal College - a transformative gift that led to the naming of the Bissett School of Business. And on May 5, 2006, David Bissett donated a further $7 million to the Bissett School of Business, the largest gift to a college in Canada, citing his desire to support "a business school that is creating a large pool of skilled people with a strong grounding in business practices."
Never forgetting his Maritime roots, David Bissett - who received an honorary doctorate from Dalhousie University in 2003 - contributed over $450,000 to establish an endowed scholarship fund so that promising students from Halifax's Cole Harbour High School could attend Dalhousie. With his wife Leslie, he gave $2 million in 2003 to create the David and Leslie Bissett Student Learning Centre at Dalhousie. Mr. Bissett also gave over $400,000 to establish the Alice Peake Bissett Residency in Companion Animals at UPEI's Veterinary College, in memory of his mother.
Giving to community causes has been a hallmark of David Bissett's philanthropy. In 2001, he and his wife gave an $8.2 million gift to the Calgary Foundation. Mr. Bissett chaired a successful fundraising campaign for the Calgary Millennium Park and has donated to a wide range of community cultural organizations. His passion for wildlife conservation has led to his support of Ducks Unlimited, Pheasants Forever and the Delta Waterfowl Foundation.
Mr. Bissett has been active in several business and community organizations including the Canadian Council of Financial Analysts, the Calgary Society of Financial Analysts, Templeton Growth Fund Ltd., Pembina Pipelines, PFB Corporation and Express Pipelines Ltd.
In June 2006, Mr. Bissett was presented with the prestigious Friend of Education Award by the Canadian Council for the Advancement of Education (CCAE). The Clearsight Wealth Management Friend of Education Award honours outstanding service or commitment to post-secondary or independent school education by a volunteer, organization, foundation, corporation or publication. Recipients have made a significant contribution in a leadership role to the cause of institutional advancement or education in Canada.
In 2007, Mr. Bissett was selected for induction into the Calgary Business Hall of Fame. Established in 2004, the Calgary Business Hall of Fame honours the lifetime achievements of southern Alberta's most distinguished individuals, who have helped shape our province through their business success, entrepreneurial spirit and philanthropic contributions - role models for our youth. Nominated by their peers, inductees are chosen by an independent selection committee. Members of the Calgary Business Hall of Fame serve as inspiring role models for all Canadians and are featured in a permanent exhibit located in Bankers Hall East Tower lobby.

At the 13th annual National Philanthropy Day luncheon hosted by the Association of Fundraising Professionals in Calgary & Area in November 2009, David Bissett was named "Individual Philanthropist" for his generous support of numerous organizations including conservation group Western Sky Land Trust, Mount Royal University, the Calgary Foundation and Dalhousie University.
David Bissett has stated his wish to see the culture of corporate philanthropy develop further in Canada. He has certainly done his part to move that culture to a new level.