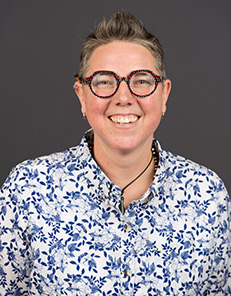 Tanya Stogre, PhD
Academic title: Associate Professor
Education
PhD, University of Alberta
M.A., University of Victoria
B.Ed., University of Victoria
Contact Information
Office: EL3423 R
Phone: 403.440.7762
Email: tstogre@mtroyal.ca

Dr. Tanya Stogre has a PhD in Education from the University of Alberta, an M.A. in Physical Education with a focus on team building, from the University of Victoria, and B.Ed Major in Physical Education and a Minor in History, from the University of Victoria. She has taught in middle and secondary schools for 14 years as an educator and Humanities Curriculum Leader. Most recently, Tanya taught at Connect Charter School in Calgary, AB for 7 years. At Connect, she collaborated with a colleague to create a school-wide student (and staff) learning plan initiative. Her dissertation investigated the ways student-teachers understood inquiry after an inquiry-based field experience. Currently, Tanya is collaborating with Dr. Norman Vaughan on the ways the professional learning plans of teacher-candidates helps them to link their personal, classroom, and field-based learning experiences, as well as document and demonstrate the Alberta Education - knowledge, skills, and attributes (KSAs) required for Interim Teacher Certification in the Province of Alberta.

Areas of Instruction
Program of Studies and Curriculum Instruction in Teaching Social Studies
Integrating Ideas, Values and Praxis - Putting Inquiry into Practice
Practicum Supervision - Year 3 & 4

Areas of Scholarship
Indigenous Ways of Knowing & Being
Maker and Design Learning
Land-Based and Experiential Teaching & Learning
Teacher Education
Maker and Design Learning

Selected Publications and Presentations
Sterenberg, G., O'Connor, K., & Stogre, T. (2019, October). Reconsidering communities of practice as hybrid spaces for learning. Paper presented at the Annual Meeting of the International Society for the Scholarship of Teaching and Learning, Bergen, Norway.
O'Connor, K., & Stogre, T., Butterfield, P. (2019, November).Partners Learning Through Place: Researching the Facilitation and Impact of Experiential and Place-Based Education Within a School-University Partnership. Symposium on Scholarship of Teaching and Learning. Banff: AB.
Stogre, T. (2017, January). Beyond These Four Walls: Outdoor Experience and Land-Based Learning. Invited presentation for the Academic Development Centre's Experiential Learning Series. Mount Royal University, Calgary, AB.
Stogre, T. & Mitchell, R. (2016). We are all treaty people. Adult and Community Education Aotearoa, Wellington, New Zealand.
Stogre, T., Cool, R., MacIsaac, K, Vaughan, N. (2016). Finding the sweet spot: Connecting personal, classroom, and field-based learning experiences through the use of professional learning plans. In L. Morris & C. Tsolakidis (Eds.), The International Conference on Information Communication Technologies in Education (ICICTE 2016) Proceedings (pp. 32-41). Rhodes, Greece.

Relevant Community Service
Scientific Committee for the International Conference on Information Communication Technologies in Education (ICICTE). Role: Member
Teacher Education Teacher Certification Committee (TECC), Alberta Teachers' Association. Role: Department Faculty Representative. Edmonton, AB
Academic Indigenization Advisory Committee at Mount Royal University
General Faculties Councillor. Mount Royal University
Contract Faculty Hiring Committee, Mount Royal University, Department of Education