Welcome to the Academic Media support of the Academic Development Centre. The ADC has a few options for those looking to develop media for their courses whether you have an idea and you're looking for help to pull it all together, or if you like to DIY - this is the place to start.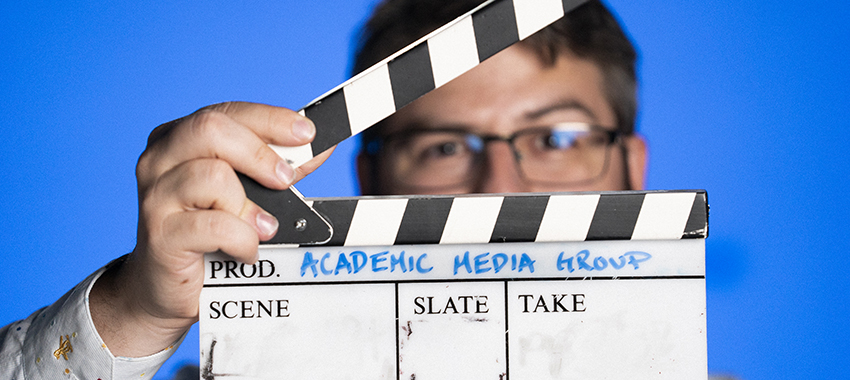 Academic Media Group
Imagine. Create. Inspire.
The Academic Media Group (AMG) is an integral part of the Academic Development Centre at Mount Royal University. AMG provides support, consultation and expertise in video, audio, and multimedia production for the faculty, free of charge, at Mount Royal University.
Our team has been around since 1972. Back then we delivered our programs on 35mm slides,16mm film and overhead projectors. Now, with the advent of digital technologies, the tools and techniques have changed, but the skills and the ability to effectively communicate remain the same. We provide our clients with the experience and expertise to imagine an idea and create educational programming that entertains and inspires audiences.
AMG Services
AMG provides expertise in writing, directing, camera, sound, animation, and video editing. We work with the faculties and departments at MRU to help them fulfill their teaching and learning goals. The result of this collaboration allows our clients full access to the latest teaching methods and technologies. We take a project idea from the initial concept to completion.
We can produce: Case-study scenarios, Virtual Tours, Interviews, Demonstrations, How-to's, Lectures… If you can imagine it, we can create it!
We use a variety of production tools to help bring your media project to life such as: 360 VR Camera, Drones, Slow-motion Cameras, high-end production cameras, and much more! In addition to video production we also can provide professional audio recording or photography.
Our media work can be categorized as:
Curriculum
Instructional
Documentary/Experiential
Many of our projects are online and you can view our recently completed work on our YouTube channel - MRU: Focus on Teaching and Learning.
Faculty Consultations
What if you want to make your own media project? We'd be happy to consult with you to help you through the steps to develop your own project - whether that be guidance on how to film or how to color grade your edit or how to give your video a flow to capture audiences.
Contact
Please contact us for information about how to access our services. We look forward to hearing from you.

Academic Media Lab
DIY media recording and editing
Producing your own video just got easier. Using the "one button" recording system available in both the Academic Media Lab (EL2230) users with little to no video production experience are able to record and export high quality video projects.
Easily record microlectures, case studies, guest interviews, and other materials to support your teaching.
Get your students involved by assigning video essays, presentations, public service announcements, pitch videos, and more.
Lightboard Studio
Record videos that engage your students by writing notes or diagrams while still facing your audience. This space is great for creating asynchronous learning materials for both in-person and remote teaching.
The lightboard room is located in the ADC Sandbox (EL2274). To learn more, or book a tour of the space contact Bree Smith at bssmith@mtroyal.ca.