Biology
Biology, the study of life, contributes broadly to human welfare in areas such as medicine, biotechnology, agriculture, the environment, and the food industry.
The biologists in the Department of Biology work together to integrate their individual disciplines into a unified course of study that is focused on meeting students' needs and exposing students to the various aspects of fields of biology.

We offer majors in Cellular and Molecular Biology and Health Science and also offer courses that can be used towards a major in General Science, a biology minor, or as your General Education requirements. We also offer courses for students enrolled in nursing, physical education and midwifery.
MRU Biology in the News
Dr. Tonya Mousseau - CTV Interview
Catch them while you can:  Butterfly Boom in Calgary!
Dr. Tonya Mousseau - CBC News
Dr. Tonya Mousseau contributed to a CBC article where she discussed the role of insect populations decline as a contributed factor to bird declines.  Read the article in it's entirety Here.
Dr. Trevor Day - The Danger of Everest
We have been hearing about the dangers that come with delays to climbers attempting to summit Everest. Dr. Trevor Day, a high-altitude physiology researcher weighs in on the issue during an interview with CBC Radio. Hear the interview Here.

Click this link to hear a CBC interview with Alex Farmer (Department of Biology) on the latest neonicotinoid pesticide ban and its effects on some of our native pollinators.
Research by Biology Professor, Dr. Jonathan Mee, was featured in a recent New York Times article about the potential loss of US Federal protections for marine national monuments.

Mount Royal University highlights the success of students in the Faculty of Science and Technology -- And, they are all in Biology! --  Are you interested in hearing about the successes of some of our recent graduates? Mount Royal University has just published a story that highlights Biology students that are starting this fall in graduate school, medical school and veterinarian schools. To read the entire article, click here. 
Biology in the Community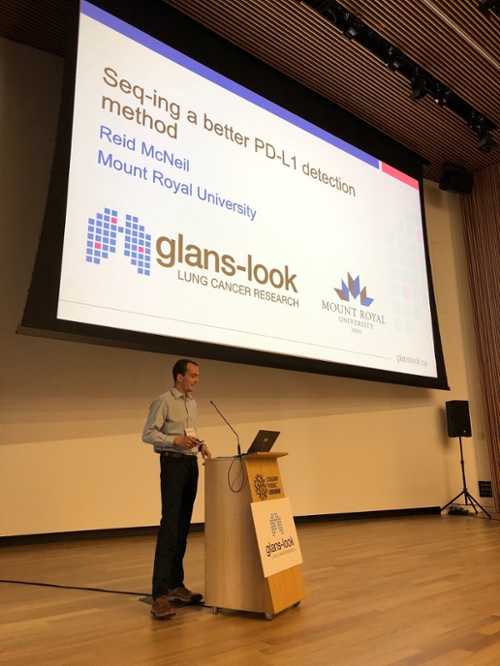 Successful Student Presentation
Fourth year CMB student, Reid McNeil, successfully presented his Biol 5201 independent project results at the Glans-Look Research Day, May 27th. This was an external conference with an audience of oncologists, industry representatives, patients, and researchers. His presentation was very well received, great job Reid!
Project title: Seq-ing a better PD-L1 detection method with the Glans-Look database
Supervisors: Lars Petersen and Sarah Orton
Dr. Melanie Rathburn Presented at:
PINT OF SCIENCE on May 20, 2019
For more information, please see the link HERE.