Traditionally, a university Convocation is a stately occasion.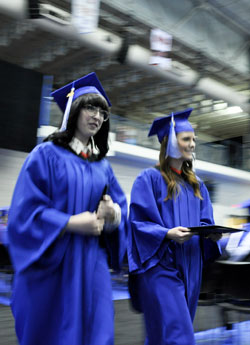 Mount Royal students prepare to cross the stage at Fall Convocation on Nov. 1, 2013.
But Mount Royal University is renowned for doing things differently - and that became clear as nearly 300 graduands strode proudly into the Triple Gym for the University's Fall 2013 Convocation ceremony on Nov. 1.
For one thing, they were piped in by University President David Docherty, PhD, who joined with the pipers of the Calgary International Airport Pipe Band and the Cochrane Pipe Band as a personal tribute to the success of each graduating student.
And, as Docherty pointed out in his remarks, another distinctive tribute to Mount Royal graduates is having the University's professors and instructors included in the ceremony's platform party.
"[It's] to tell you how proud we are of you, and as a reminder of how important they were to your success," Docherty explained to the graduating class. "Very few universities have faculty on stage to congratulate you as cross the stage. It's a testament to our community.
"Graduates - today is your day. These used to be very sombre occasions, but now they're fun days," he said.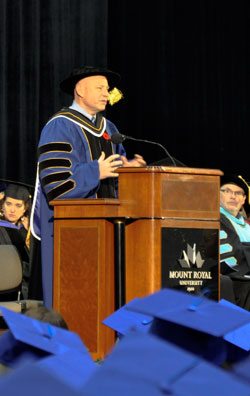 Mount Royal President David Docherty encourages friends and family of graduands to celebrate the students' acheivements.
"So let's have lots of celebrating - moms, dads, loved ones, spouses, families - as you walk across the stage."
And graduates obliged. There were proud smiles, cheers from the audience, and heartfelt handshakes as each crossed the stage. One grad even paused to take a selfie - a self-portrait snapped on a smartphone - as she shook hands with Docherty.
Mount Royal milestones
The Fall 2013 ceremony also included both a first and a last: it was the first Mount Royal Convocation for the University's new Provost and Vice-President, Academic, Kathyrn Shailer, PhD and the last Convocation for Richard Shaw, whose term as Chair of Mount Royal's Board of Governors is nearing its close.
In his remarks, President Docherty welcomed Shailer and also recognized Shaw's contributions.
"I want to talk to you about citizenship and the importance of giving back to the community, and I would say that Richard's contributions to Mount Royal as Chair of the Board and as a board member before that with Theatre Calgary and the Glenbow Museum are concrete examples of citizenship," Docherty said.
"I want you to reflect on how you can contribute in similar ways for the rest of your life … and I want to thank you, Richard, for all your support of Mount Royal, its faculty and its students."
Professor Emerita named
As part of the ceremony, Mount Royal's Board of Governors named Judy Johnson, PhD, as the University's newest Professor Emerita.
This designation recognizes retired faculty members for their significant contributions during their long-term association with Mount Royal, and Provost Shailer paid tribute to Johnson as she announced the award.
"Having worked as a professor at Mount Royal, teaching Psychology for 23 years, Judy exemplifies excellence in teaching and learning, and she was a strong contributor during Mount Royal's transition from a college to a premier undergraduate university," Shailer said.
"Always a strong advocate for Mount Royal, Judy was instrumental in helping to build Mount Royal's reputation locally, nationally and internationally.
"She has been an invaluable resource to Mount Royal and will continue to enhance the reputation of the University as Professor Emerita."
A valedictorian committed to volunteering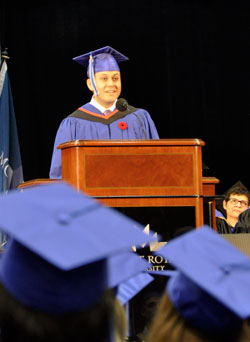 Fall 2013 Valedictorian Carlos Andres Duran surveys the crowd during his address.
The ceremony also featured a valedictory address by Carlos Andres Duran, a graduate of the Bachelor of Applied International Business and Supply Chain Management who was crossing the Convocation stage for a second time.
Duran first graduated with a Licentiate of Civil Law from the Pontificia Universidad Catolica del Ecuador in 2007. In 2009, at the age of 27, he travelled more than 6,000 kilometres to come to Mount Royal and, as he said in his address, to "fully develop my potential abroad."
Throughout his studies at Mount Royal, Duran was also an active volunteer and his remarks focused on something he calls the butterfly effect.
"I truly believe that who we are, and who we will become, is determined by our actions - that everything we do, good or bad, has a reaction - a ripple that has vast effects in this world," Duran said.
"By doing little things, we can truly create a new reality," he said, before encouraging his fellow graduates to use their skills to become global citizens and leaders.
"Measure your success in terms of the positive impact you can have on everyone today in achieving your personal goals while collectively creating a better tomorrow."