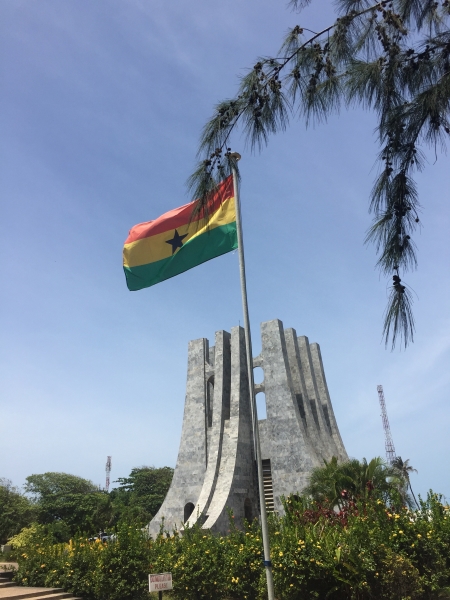 Ghana Field School - Spring 2022
This field school will offer students the opportunity of a lifetime to visit Ghana, one of the most peaceful countries on the African continent, and experience Ghanaian hospitality at its finest. Students will meet with some of the Ghanaian writers we will be studying on the trip, be able to relate text to context in experiential learning at its best, see wildlife like elephants at close range in the Mole National Park, and visit cultural and historical sites like slave castles. They will get an opportunity to do volunteer work in a basic school, and also bathe in the sun on the beautiful beaches of Ghana while earning six (6) MRU credits—ENGL 4900 (GNED Cluster 3, Tier 3) and ENGL 3900 (GNED Cluster 2, Tier 3). The ENGL 4900 course, Travel Studies in Literature: Texts and Contexts –African Women's Writing, will be taught by Dr. Yaw Asante. The ENGL 3900 course, Travel Studies in Literature: Words and Ideas – Ghana Field Studies in the Environmental Humanities, will be taught by Dr. Robert Boschman, Chair of the Department of English, Languages, and Cultures. During the trip, students will explore some aspects of the African landscape; Ghana encompasses significant socio-cultural, political, economic and historical elements that reflect the continental picture.
 For more information contact Dr. Yaw Asante: yasante@mtroyal.ca; Dr. Robert Boschman: rboschman@mtroyal.ca; or Trinda Guillet, Co-ordinator of Travel Studies, MRU International Education Office:  tguillet@mtroyal.ca
From Text to Experience: Reflections on the Ghana Field School 2018
Savannah Cromwell (B.A. English student)
I am an English major currently completing my final semester at Mount Royal University and had the opportunity to participate in the 2018 Ghana Field School. This provided a unique opportunity to study two senior-level courses: ENGL 3900- Travel Studies in Literature: Words and Ideas, and ENGL 4900- Travel Studies in Literature: Texts and Contexts.
Academically, I was drawn to the Ghana Field School because of my interest in postcolonial literature. Specifically, I wanted to better understand the contradictions of independence encapsulated in West African sub-region writing, with an emphasis on Ghanaian literature, combined with the chance to experience first-hand the implications of these contradictions. Because the foundation of this trip was academic it allowed for a multitude of opportunities I would not have had otherwise, most notably meeting the Minister of Education and volunteering at Adweso Mile 50 School in Koforidua. These opportunities provided a foundation for me to build meaningful relationships within a new, diverse culture that presented new perspectives, experiences, and world views.
Total immersion into Ghanaian culture was, for me, critical in understanding Ghana's postcolonial condition. Even after Ghana achieved independence in 1957, the effects of colonialism are rampant. One aspect of colonialism that struck me during the trip was related to the lack of infrastructure. At the beginning of the trip, the group joked about how bad the conditions of the majority of roads outside of major cities were. But as I reflected on Ghana's neocolonialist condition, as expressed in much of the literature studied in class, I realized that the poor conditions of the roads were directly related to the actions, or inaction, of the Ghanaian government. It was eye-opening to see the real-life effects of government corruption, and how deep these effects ran, therefore linking theory to practice. Similarly, visiting the Elmina and Cape Coast Castles, built for the slave trade, were life-changing moments for me. Though it was difficult to be in a physical space that held so much unimaginable (and yet tangible) trauma and grief, the act of standing in the same space as millions of enslaved souls was profound and is an experience that I will never forget.
Being in the same physical spaces described in the postcolonial literature read for this course gave me a greater breadth of understanding about how deep the roots of colonialism run in Ghana. And so, my experience has made me question what independence means, sixty-one years later, in the Ghanaian context, and the complexities of postcolonial conditions. Exposure to an experience such as this cannot be achieved, in this depth, in the classroom. As such, I cannot recommend this field school highly enough.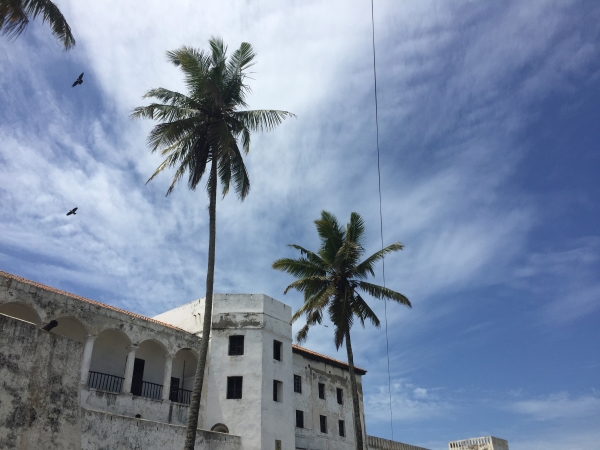 Shannon Pruden (B.A. History student)
Participating in the 2018 Ghana Field School has provided me with a more meaningful understanding of West-African literature and a greater appreciation for the importance and value of Mount Royal University's postcolonial literature classes. Not only did visiting Ghana allow me to visit some of the places described in classic postcolonial novels-which deepened my understanding of the texts we study by allowing me to visualize their setting and empathize with their characters-it reinforced the fact that Ghana, and the rest of the postcolonial world, does not simply exist as an object of academic study.
Over the course of the three weeks I spent travelling throughout Ghana I had the opportunity to meet dozens of Ghanaians. The conversations I had with teachers, students, porters, and receptionists proved that the novels and theoretical texts we study at home can actually help us understand the world beyond Mount Royal's campus. The many conversations I had with ordinary Ghanaians gave me an opportunity to practice communicating across cultures and to recognize the importance of allowing people to represent themselves. Programs such as the Ghana Field School reflect the English Department's commitment to teaching students how to approach the challenge of studying and interacting with different cultures, and the challenge of reconciling present realities, historic legacies and seemingly abstract theoretical approaches.
Somehow the Ghana Field School manages to balance work and travel. The three weeks I spent in Ghana were definitely the most intense and challenging of my university career, but they were also the most enjoyable and the most rewarding. In addition to frantically writing papers in the back of the van as we bounded across the country and delivering seminar presentations at nine in evening, I had the opportunity to visit a cocoa research institute, go on safari, and stand in a colonial slave dungeon. All of these experiences served to further my understanding of Ghana's colonial history and the many ways this history continues to affect the lives of Ghanaian citizens by making it more immediate. For example, I remember that standing in St. George's Castle was incredibly emotional because it made the historic abuses perpetrated under colonial rule more tangible: they were suddenly all too real.
I was similarly struck by the importance of postcolonial studies while visiting the Cocoa Research Institute of Ghana and Mole National Park. The fact that I was travelling with the university made me more sensitive to the causes of the dramatic inequalities that characterize daily life in Ghana than I might otherwise have been. My familiarity with postcolonial theory and the strategic questions of my professors also made it impossible for me not to recognize that most Ghanaians would not be able to afford to share in my experiences; it forced me to recognize that my experience of Ghana was completely different than that of most Ghanaians. By providing my classmates and I with an opportunity to recognize this reality, the Ghana Field School helped ensure that the lessons and perspectives we are introduced to in our postcolonial literature classes continue to shape the way we interact with the world.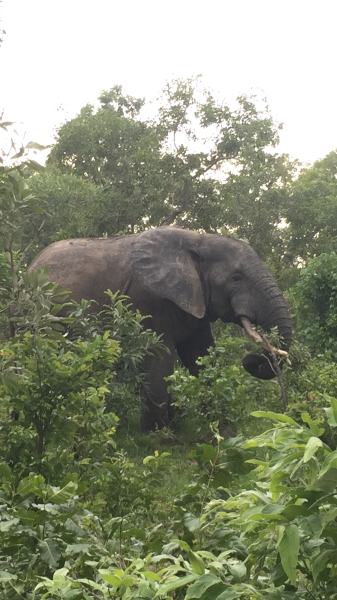 Negaar Tebyanian (Bachelor of Education - Elementary student)
The Ghana Field School provided me with several exceptional opportunities including travel, engaging with new and exciting content regarding postcolonial literature, and meeting new people. One experience that stood out for me on this trip was connecting readings and content to real life places and people. A profound moment for me on this trip was when our group visited St. George's Castle in Elmina and Cape Coast Castle, both located on the coast where they were originally built by Portuguese colonizers and slave-traders. Visiting these castles gave me a sense of how so many Ghanaians survived during the Colonial Period. Having the opportunity to experience post-colonial content in such a personal way was truly the experience of a lifetime, and one that I would not have had otherwise. It was a very touching moment and brought me to the realization of what so many individuals had suffered many years ago.
Not only were the castle visits a vital aspect of this trip, but everything around us related to a learning experience. Whether it was looking at how Ghanaians live, cultural aspects of life, or economic situations, everything allowed for a learning opportunity and connection to important content regarding post-colonialism. For example, some of the short stories we read related to how many individuals in Ghana continue to follow the standards that were set out by colonizers so many years ago. Another example would be reading a book where the exact setting of the story was in Accra, where we stayed. The opportunity to learn on such a deeper and more personal level is something that can, in my opinion, only be gained through experience such as this.
For this reason, I would highly recommend this field school to future students. The Ghana Field School would be an incredible and valuable experience to students regardless of their educational background or degree. Considering my degree is Education, this was not mandatory for me, yet I chose to participate in order to further my knowledge of post-colonial literature and gain life and travel experience. Even if the Ghana Field School is not of particular interest, I would most definitely recommend other field school opportunities at Mount Royal University as well. Learning and travelling are so powerful to gaining knowledge and experience in a particular subject area. From meeting new people to seeing new places to building relationships, Field School contributes greatly to your personal development.
If ever given the opportunity, I would definitely participate in a Field School again, and will continue to recommend it to as many others as I can. It gives you insight and experiences past what is offered in the classroom and distinguishes you from the rest.