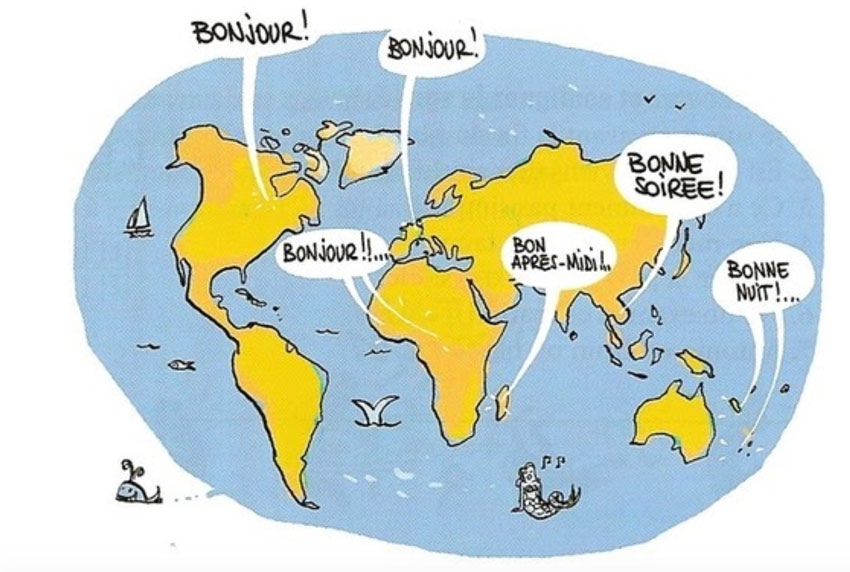 French is a global language and the second official language of many countries. It is spoken by approximately 265 million people worldwide. In Canada, French is an official language of government and business. In this context, a minor in French opens tremendous possibilities nationally and internationally. 
A minor in French will develop your communication skills and deepen your understanding of Francophone cultures. You will learn to function effectively in a variety of social and global contexts, and gain language and cross-cultural skills by analyzing fiction, film and mass media texts from Europe, Africa, North America, Polynesia and Asia.
Career possibilities when combined with a Bachelor's degree
Government
Education
Business
Tourism
Translation
Journalism
Learn more about the French minor requirements and current courses offered.
Sample courses
Beginners' French I
Basic elements of the French language, including training in comprehension, speaking, reading and writing of French.
Beginners' French II
Further develop your oral, reading and writing skills. It also allows you to gain a more in-depth understanding of French culture.
First-year university French I
Learn to study French language and culture in French-speaking countries, including France, Canada, and other parts of the world.
Second-year university French I
Advanced training in grammar, vocabulary, reading and writing.
Contemporary French culture and civilization
Explore features of contemporary France from a cultural perspective, and also includes a brief overview of French civilization and its impact on modern French society.
Francophone cinema for oral and written communication
Develop your French using French films as a vehicle to promote oral/aural and written mastery.
French phonetics
Introduction to French phonology, including comparative and contrastive differences between French and English. It is a practical course emphasizing phonetic correction.
Translation I
Gain an understanding of the issues that arise when translating a variety of texts and practice strategies for solving these challenges.
Francophone literature I
Examine the selection of novels, poems and plays written by well-known francophone authors. It addresses literary movements and themes, focusing your attention on cultural issues that have shaped the emergence of these pieces of literature.
Writing styles and skills
Develop your writing skills in French by concentrating on the structures of sentences, paragraphs and essays. You will also enrich your vocabulary and acquire a knowledge of writing styles by studying a variety of contemporary texts. You will improve your own writing skills by putting this knowledge into practice.
French Placement Test
If you are not sure what French course to register in (or if you want to check that you have the right proficiency level for a given course), please take the short online French Placement Test. 
Please note that this test only provides an indication of your level and that you might need to meet with the program coordinator for more information. 
Study in a Francophone Environment in Canada
Are you looking for a spring or summer program to learn French? Do you want to discover another region of Canada and meet new people? Go Explore! Explore is an intensive language-immersion program. You can take the program in the spring or summer, whichever you prefer. Explore Program (Application deadline every year: February). 
Transfer credits might be awarded on a case by case basis involving a review of the student's level of proficiency. 
Credits awarded on a case by case basis.
International study
Exchange programs with universities in France and Switzerland give you opportunities to experience a different culture, practice your language and communication skills and develop new friendships.
Learn more about international study opportunities.
Teaching Opportunities
The Teaching Assistant Programme in France (TAPIF) offers students a unique opportunity to work for 7 months in France, teaching English to French students.
Application deadline every year: end of January.
Professional Work Experience in French (no credit)
Odyssey is a paid, professional work experience that gives you the opportunity to travel to Quebec or New Brunswick, make a difference in the lives of students, and share your culture. 
Application deadline every year: February.
Highlights
Convergences francophones is an interdisciplinary refereed Francophone online journal edited by Antoine Eche and Justine Huet, professors at Mount Royal.
The French section also regularly contributes to the Enlightenment Group Symposium Series. 
Meet your French instructors