International Women's Day
March 8, 2021
Join us on March 8 to celebrate International Women's Day! Presented by the Faculty of Business and Communication Studies and the Women Entrepreneurship Knowledge Hub, we are celebrating and featuring remarkable female leaders from our community through a series of pre-recorded interviews.

All recordings will be accessible on the website on March 8 and will be a mix of videos and podcasts. Join us on March 8 to hear from these incredible women, celebrate their achievements and help raise awareness about important issues facing women today. In the meantime, review the bios of our featured women and mark the date in your calendar to celebrate the women in your world!  
Featured Women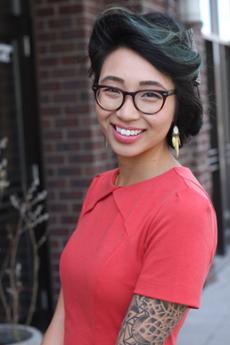 Kylie Woods
MRU Alumna, founder of Chic Geek

Kylie is passionate about improving gender diversity in technology. She's the founder of Chic Geek, a Calgary-based non-profit that curates people, content and companies to build an inclusive community where tech-enabled women advance their careers.

Kylie was named Top 40 Under 40 by Avenue Magazine and has been profiled in Metro News as one of "Calgary Heroes." She has also been recognized as a "Need to Know" in Alberta Venture and profiled by the Mount Royal University Summit Magazine in their feature on Women in STEM. Kylie represented Alberta in the prestigious International Visitors Leadership Program hosted by the US Department of State and was a voice for women in STEM on an international stage.

Proud mom of identical twins, Lily and Mae, Kylie brings the lessons learned through her journey as a social entrepreneur into her role as a parent.

Interview Title: Creating gender diversity in technology
Interview Description: Listen to an interview with Kylie as she openly shares her journey into social entrepreneurship, how feeling excluded in her tech community led to the creation of Chic Geek, and how the devastating impact of COVID gave her clarity. The interview is moderated by Alberta's Program Lead for the Women Entrepreneurship Knowledge Hub, Anita Kemp.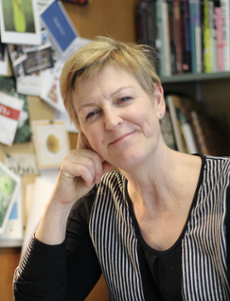 Susan Prentice, PhD
Duff Roblin Professor of Government at the University of Manitoba
Susan Prentice is Duff Roblin Professor of Government at the University of Manitoba, where she specializes in family policy and childcare. She has published widely on historical, contemporary and comparative childcare policy. In addition to scholarly work, she is active as a public sociologist, including advising Statistics Canada, holding a seat on the first-ever Expert Panel of the federal Minister of Families, Children and Social Development, working closely with national advocacy groups and providing regular media commentary. She is the academic lead of the childcare cluster in the newly-funded seven-year SSHRC Partnership Grant, "Reimagining Care/Work Policies".
Interview Title: COVID-19, women's employment and the critical role of childcare
Interview Description: Watch an interview with Susan where she talks about COVID-19, the impact it's had on women's employment and the critical role of childcare. The interview is moderated by Bissett professor, Rachael Pettigrew, PhD.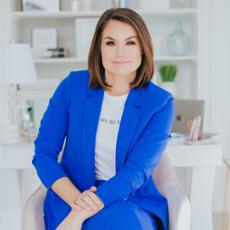 Jennifer Hargreaves
Founder of tellent
Jennifer is the Founder and CEO of tellent - a diversity recruitment and social impact company striving to close the talent gap in the new work economy. They work with flexible work opportunity seekers and businesses to make work, work better for everyone.

Jennifer's professional experience spans three continents across brand strategy and international market development. While her primary school teachers didn't appreciate her questions challenging "why", she now embraces that curiosity and the perspective that comes with challenging the status quo to create impactful and lasting change. Get in touch at Jennifer@wearetellent.com.
Interview Title: Closing the talent gap for women in work
Interview Description: Listen to an interview with Jennifer as she candidly talks about what it takes to create a social impact company focused on closing the talent gap for women in the new work economy, and how she has been navigating her business (and life) throughout COVID. The interview is moderated by Alberta's Program Lead for the Women Entrepreneurship Knowledge Hub, Anita Kemp.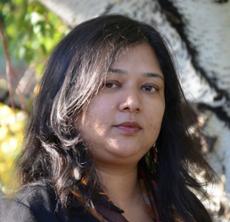 Pallavi Banerjee and Nabiha Atallah
Dr. Pallavi Banerjee, Associate Professor in the Department of Sociology at the University of Calgary
Pallavi Banerjee has been an Associate Professor in the Department of Sociology at the University of Calgary since 2015.  Before this she was a postdoctoral fellow at the sociology department at Vanderbilt University.  She received her Ph.D. in Sociology from the University of Illinois, Chicago in December of 2012. Her research interests are situated at the intersections of sociology of immigration, gender, unpaid and paid labour, intersectionality, transnationalism, minority families and the Global South. 

Her forthcoming book entitled, Dismantling Dependence: Gendered Migrations, Indian High-Skilled Immigrant Families and the Visa Regime, explores how the immigration and visa regimes of the United States affects male-led and female-led immigrant families of Indian professional workers in the U.S.  Her other award-winning research has been published in many peer-reviewed journals. She has also written opinion-pieces in venues such as The Globe and Mail and her research has been cited widely in the media in the U.S., Canada and India. Dr. Banerjee is currently working on a new book manuscript and several research papers on refugee resettlement of Yazidis, Rohingyas and Syrians in the U.S. and Canada.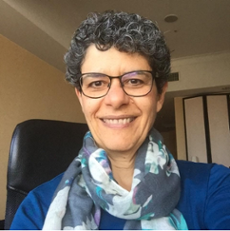 Nabiha Atallah, Advisor for Strategic Initiatives at Immigrant Services Association of Nova Scotia 

Nabiha Atallah is an Advisor on Strategic Initiatives at Immigrant Services Association of Nova Scotia (ISANS), a large multi-service settlement agency in Atlantic Canada. 

Nabiha leads ISANS' research strategy development and implementation. She advises on policy development, among other areas and has over 25 years of experience in leadership roles at ISANS.
Interview Title: The impact of COVID-19 on newcomer women
Interview Description: In this fireside chat, Nabiha Atallah and Dr. Pallavi Banerjee share their perspectives on how COVID-19 has impacted newcomer and refugee women. They highlight some innovative programs that have supported newcomer women during the pandemic and underscore the importance of supporting the women who develop and deliver these programs. This interview is hosted by Dr. Leah Hamilton, PhD, Professor of Organizational Behaviour, Bissett School of Business.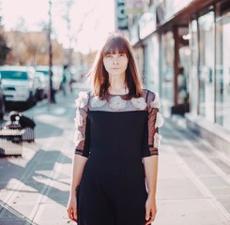 Anna Murphy
Ward 8 Council Candidate
The past few years have seen Anna Murphy take an active leadership role within the community of Calgary, out of a genuine and heartfelt love for the city which she calls home. Having previously offered her time in a volunteer capacity in the roles of Director of Business Development for Calgary Pride, Director of Fund Development for Skipping Stone, and Volunteer Coordinator for the Canadian Rockies Gay Rodeo Association - Anna now currently has the privilege of serving and volunteering as the CFO/Treasurer for her local Constituency Association in the provincial riding of Calgary-Buffalo, while also having announced in 2020 her intentions to run for Calgary City Council with sights on representing Ward 8. 

Anna has previously participated in the AskHerYYC program PrepareHer, and in March she will take a seat in virtual Parliament as the Calgary-Centre Delegate for the Daughters of the Vote program. Having completed two micro-certificates via EdX awarded by Harvard and Oxford in the areas of Urban Planning and Economic Development, Anna was further inspired to enroll in undergraduate studies at the Institute of Continuing Education at Cambridge in the area of International Relations & Politics.
Interview Title: Path to Politics: Breaking Barriers & Building Communities
Interview Description:  Join us for a conversation with a woman breaking barriers, Anna Murphy will discuss her path to politics, why she thinks representation in government matters, and what she thinks is the path forward to a less divisive future. This conversation is hosted by Bissett professor, Dr. Rachael Pettigrew, PhD.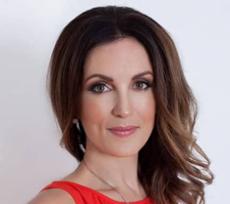 Kendra Kincade
Founder and Chief Executive Officer of Elevate Aviation 
Overwhelmed by a decidedly challenging early life, Kendra discovered that the pathway to her own salvation lay in helping others find theirs. Her quest to make a difference in the lives of others included climbing Mt. Kilimanjaro to raise money for a local hospital and establishing her own non-profit organizations, Changing Stories and Elevate Aviation.

Kendra's career as an Air Traffic Controller opened up even more horizons. When she recognized the negligible female presence in the industry, she set out to remedy the situation. Now, an internationally acclaimed humanitarian and Honorary Colonel of the RCAF 417 Helicopter Squadron, Kendra is the award-winning President and CEO of Elevate Aviation.
Interview Title: Providing a platform for women to thrive and succeed through aviation
Interview Description: Listen to an interview which explores Kendra's remarkable story about Elevate Aviation, a primary provider of aviation career support, that works alongside industry professionals to promote equity, diversity and inclusion in the workplace. This interview is co-moderated by Dr. Amanda Williams, PhD, and Megan Wallz, a 4th-year business student at MRU.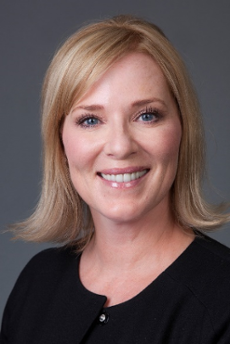 Jane N. Fedoretz and Kelly O'Reilly Wilks
Jane N. Fedoretz, Executive Vice President, People, Talent and Transformation, TransAlta
Jane is responsible for oversight and governance of all Human Resource matters involving Executive Compensation, Talent and Culture, Leadership Development and the Transformation Office at TransAlta. Jane has over 20 years of legal experience in the energy industry and as a private practitioner.
Prior to joining TransAlta, Jane held the role of Counsel, in the Energy Group at Blake, Cassels & Graydon LLP (Blakes), a Canadian corporate law firm. While at Blakes, Jane was part of the Oil and Gas practice group, where she acted for Canadian start-up companies, for major and super major energy and mining companies providing legal support for the exploration, development and construction of energy projects.
Previously, she held the role of Vice President, General Counsel, Chief Compliance Officer and Privacy Officer at CEDA International Corporation (CEDA), a privately-held oil field and maintenance services company. Previous to her tenure at CEDA, Jane practiced as a Construction Lawyer at Petro Canada, and at Jacobs Canada Ltd., a subsidiary of Jacobs Engineering Group, Inc.
Jane holds a Bachelor of Social Work degree from the University of Calgary and a Bachelor of Laws degree from the University of Alberta.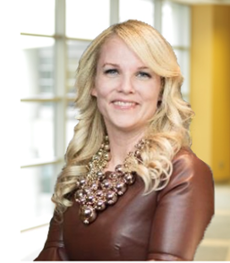 Kerry O'Reilly Wilks, Executive Vice President, Legal, Commercial and External Affairs, TransAlta
Kerry O'Reilly Wilks is the Executive Vice President, Legal, Commercial & External Affairs with TransAlta Corporation where her portfolio spans legal, communications, government relations, stakeholder engagement, Indigenous affairs, communications, regulatory and market policy, corporate secretarial, governance, trading compliance and commercial.
Kerry was named as one of Lexpert's Rising Stars - Top 40 under 40 lawyers in Canada in 2012, as well as UNB's Alumni of Distinction in 2015 for her significant contributions to her profession on a global scale, as well as to communities, globally. Kerry was awarded a 2017 Zenith Award as one of the leading female lawyers in Canada and a significant change agent for women in law and society. She has also been noted as one of the Top 25 Most Influential Lawyers in Canada. Most recently, Kerry was named as one of the Top General Counsel Thought Leaders in North America at the Corporate Counsel's 2019 Women, Influence & Power in Law Awards in Washington, DC. In 2020, Kerry was named as one of the most influential women in business in Calgary as well as the Canadian Law Department Leader of the Year. She also, in 2020, received an Excellence Award as one of the Women of the Year by the Canada Law Awards. 
Interview Title: Empowering Women – Female Executives in Calgary Choosing to Challenge
Interview Description: Watch an engaging conversation between two female executives at TransAlta Corporation, a leader in clean electricity, as they discuss how they choose to challenge their communities, company and themselves for this year's International Women's Day. During the interview, Kerry and Jane explore the challenges they faced in their profession, their influencers while at university and the big dreams they aspired to achieve. Jane and Kerry empower the audience with insightful advice on what drives them to be relentless female leaders and practical tips in building successful careers. This interview is moderated by Noren Howg, Legal Counsel at TransAlta Corporation and Marcia Perry, Managing Director of People and Talent at TransAlta Corporation.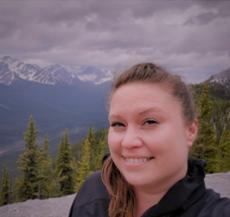 Amanda Sanregret
Senior Adviser, Indigenous Relations and Stakeholder Engagement, TransAlta
Amanda Sanregret is a leader in Indigenous Relations and is a natural talent at guiding relationships that inspire positive change across organizations.  Amanda's business acumen, regulatory knowledge and intuitive thinking allow her to provide expert advice on strategic actions that balance corporate and external priorities and interests. Amanda has a bachelor's degree in Environmental Science and over ten years' experience in natural resource management, energy development and policy development. She is driven by a tireless work ethic and is able to seamlessly manage competing priorities across multiple disciplines. Amanda has two Akita dogs and loves to spend time outdoors hiking and biking and enjoying time with family.
Interview Title: Building relations: Indigenous women share about their journey
Interview Description: Listen to a conversation between Amanda Sanregret and Aurora Huber, a fourth-year Bissett School of Business Student, as they share about their career journeys, the importance of diversity and inclusion initiatives and support for women in the workplace.
Women Entrepreneurship Knowledge Hub
Mount Royal University and the Bissett School of Business is proud to host the Alberta chapter of the Women Entrepreneurship Knowledge Hub (WEKH).

Supported by the Government of Canada, the WEKH aims to enhance the data and knowledge of women's entrepreneurship throughout the country. It focuses on developing a platform to build a more inclusive innovation ecosystem.

The WEKH is a consortium of post-secondary educators across Canada that, along with key partners, will deliver a number of activities intended to support the advancement of women entrepreneurs from diverse backgrounds throughout the innovation ecosystem. Mount Royal University is one of ten regional hubs for the WEKH. 

For access to WEKH resources and research, visit their website.