Sustainability News & Events
Upcoming Events
Fresh Routes Mobile Grocery Store
Tuesdays 11:30AM - 1:30PM | Wyckham House
Fresh Routes mobile grocery store is a community-driven grocery store on wheels that increases the availability of healthy and affordable foods in underserved neighbourhoods of Calgary. The Fresh Routes is a collaboration between the City of Calgary, the Institute for Community Prosperity, Leftovers, local vendors, and community groups.
Open every Tuesday in Wyckham House, the market will have a variety of fresh produce, eggs, bread and some non-perishables. All items are budget friendly - the aim to be under market value, allowing all individuals to have access to healthy food. Some of these items include bananas, apples, berries, sweet potatoes, cucumbers, and almond milk. Items may vary throughout the pilot based on the seasons.
BYOB: Bring your own BAG! Cash, debit, and credit accepted.
SAMRU Good Food Box
The Good Food Box, a barrier-free program operated by the Community Kitchen Program of Calgary, allows you to purchase fresh, healthy fruits and vegetables at an affordable cost! Good Food Boxes are delivered to the Students' Association once a month. You can place your orders at SAMRU Reception.
Indigenous events listing
See list of events hosted by Mount Royal and local communities including:
Otahpiaaki

Rock Your Moccs!

Metis Week
---
In the News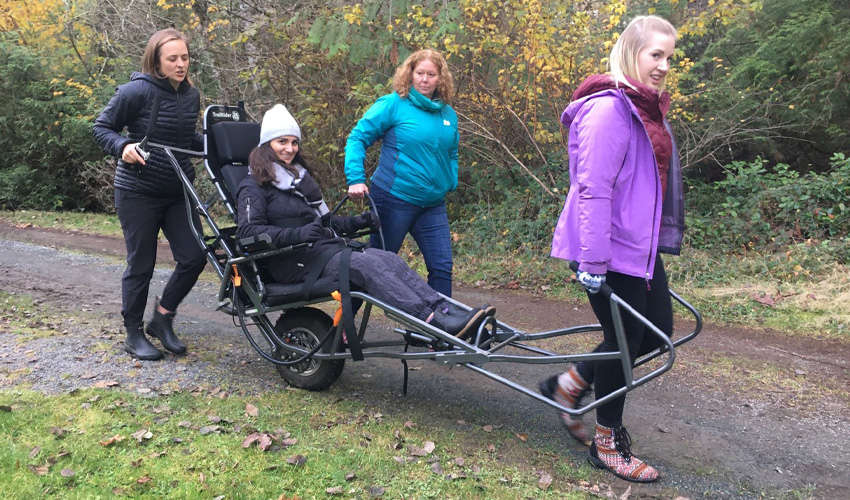 Karly Upshall, right, helps pull Amalie Johnson in an adaptive, all-terrain wheel chair. The two fourth-year ecotourism and outdoor leadership students are working as research assistants for a national initiative to help make parks and protected spaces more inclusive. Read more.
Archived News & Events