At Mount Royal, projects are guided by the University's Strategic Plan, Space Management Policy, Campus Master Plan, and Internal Renovations Master Plan. Capital and renovation projects are executed by the Planning & Project Delivery team, while deferred maintenance projects are executed by Building Operations.
Here are a few of our projects. If you would like to know more of what we are working on, email fm@mtroyal.ca.
Completed Projects
Riddell Library and Learning Centre

Location
: EL Building (new)
Architect:
DIALOG
Contractor:
Stuart Olson
Number of Storeys
: 4
Size:
170,000 sq. ft.
Constructed:
2014 - 2017
Cost:
100.4 M
FEATURES
• Maker studio complete with 3-D printers, scanners, industrial sewing machines, & laser cutters
• Two large-scale visualization rooms
• Audio production rooms
• 360º Immersion studio
• Collection of 535,000 monographs and 81,000+ journal titles
• 170 computer workstations
DESCRIPTION
Completed on time and on budget, Mount Royal's Riddell Library and Learning Centre is a world-class facility that serves the 10,000+ students who attend the university, as well as the public. The cutting-edge contemporary four-storey, stand-alone building took 36 months to construct from breaking ground in 2014 to opening in 2017. The library and resource centre features flexible learning spaces like treadmill desks, 34 study and breakout rooms, labs, teaching and administrative areas, as well as a café.
This project is targeting LEED® Gold certification.
Taylor Centre for the Performing Arts & Bella Concert Hall

Location:
ED Building (new addition to Roderick Mah Centre for Continuous Learning)
Architect:
Pfeiffer Partners Architects, Inc. and SAHURI + Partners Architecture Inc.
Contractor:
CANA Management Ltd.
Number of Storeys
: 2
Size:
95,000 sq. ft.
Constructed:
2012 - 2015
Cost
: 90.5 M
FEATURES
• Design and structural elements reflect the rural prairie heritage
• Calgary's only mid-sized hall; 787 seats, similar to older halls in Europe
• Stage accommodates 90-piece orchestra
• 43 soundproofed practice studios
• Recording studio
DESCRIPTION
The versatile Taylor Centre for the Performing Arts (TCPA) is a world-class facility dedicated to meeting the needs of the community. The concept for the TCPA began in 1999 and was realized when the building opened in 2015.
Giving a nod to MRU's heritage, the Taylor Centre has been designed to resemble a barn - the school's original building was nicknamed "The Barn" by staff and students. Aged metal, grey silt, and copper mark the centre's exterior, while skylights and glass walls flood the interior with natural light. Adding to the warm, inviting atmosphere are the cherry-wood walls throughout the inside of the building.
The Bella Concert Hall is the heart of the facility, providing state-of-the-art acoustics in an architecturally stunning environment.
The TCPA is the recipient of the City of Calgary's Award for Accessibility. The 95,000-square-foot building features accessible seating in all our performance spaces. Assistive listening devices are available for the Bella Concert Hall and TransAlta Pavilion.
In addition to its memorable public areas, the multifunctional TCPA features instructional spaces for private lessons, rehearsal halls for ensembles of all sizes and a dedicated wing for the Conservatory's Early Childhood music programs.
This project has achieved LEED® Gold certification
Fact Sheet: https://www.mtroyal.ca/AboutMountRoyal/MediaRoom/Newsroom/taylorcentrefactsheet.htm
Website: https://www.mtroyal.ca/ProgramsCourses/FacultiesSchoolsCentres/TheConservatory/
Trico Changemakers Studio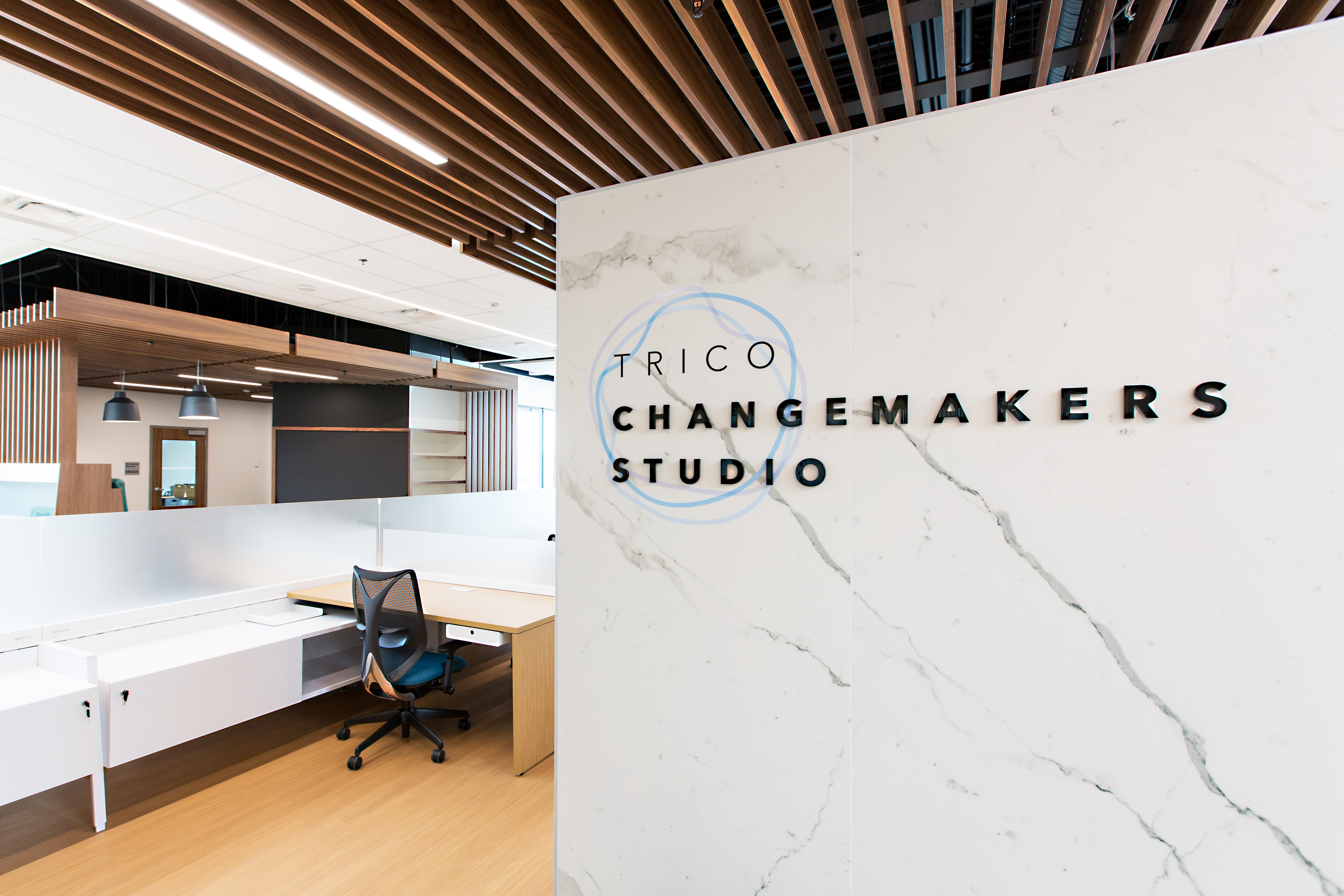 Location:
Bissett School of Business 3RD floor
Architect/Designer:
GEC Architecture
Contractor:
Hurst Construction Management
Size:
4,800 sq. ft.
Constructed:
2018
FEATURES
• Eight private offices, 16 dedicated desks
• 16 Hot Desks (Unlimited, 80hrs/month, 40hrs/month)
• Two workshop spaces for 6-8 people
• Gathering space for impromptu collaboration and/or small events
• Two booths with white boards for solo imagining or private calls
• Fully equipped kitchen
• Printing station
DESCRIPTION
The Trico Changemakers Studio is a vibrant, 4,800 sq/ft co-working space located on the top floor of the Bissett Building (EB 3013) on the southeast edge of campus. The Trico Changemakers Studio is a space where a diverse, creative team of facilitators, designers, researchers, and students work with organizations and multi-stakeholder collaboratives to understand and address complex social issues. There are 42 rentable spaces, two meeting rooms, a kitchen, and other collaborative spaces.
Learn more about the space here.
Location:
Main Building, W208A & W208B
Size:
85 sq. ft.
Constructed:
June 2018 - Feb 2019
FEATURES
• Male ablution station - W208A
• Female ablution station - W208B
• Outfitted with foot wash stations, benches, mirrors, and paper towel dispensers.

DESCRIPTION
Through the construction of two new ablution stations, Mount Royal University has addressed an accessibility and safety gap. The male and female stations were built cross from the University's Meditation Centre, and strategically located adjacent to the women's washroom, in order to reduce associated infrastructure costs.
Read more here.
Location:
Main Building Security Office, X200
Implementation:
January 2019 - June 2019
FEATURES
• Secure network of high-quality cameras feeding into a sign platform, which is robust and expandable.
• Artificial intelligence recognizing pixel movement patterns
• 360 degree cameras
DESCRIPTION
The campus's nearly 20-year-old network of security cameras has been replaced with high-resolution cameras integrated with artificial intelligence (AI) technology that makes it easier to see issues in real time. The iCetana technology is also known as black screen monitoring and Mount Royal is the first to adopt it anywhere in Canada. Using AI, and over a 14-day period, the system 'learns' and recognizes normal activity as movement patterns across campus. When it detects an anomaly it switches immediately from a black screen to a live feed of the situation for the dispatcher to see.
Read more here.
Projects in Process
Location
: East Residence
Start:
May 2019
Anticipated completion:
Sept 2019
Eight existing units in East Residence are being upgraded with utilitarian kitchens, bathrooms with bathtubs, washers, dryers and basement storage to meet the demand of the family Indigenous Housing Program (IHP).
This project is funded by a generous donation from David and Leslie Bissett.
Click here to learn more about this project.
Location:
Main Building, E145
Start:
April 2019
Anticipated completion:
Aug 2019
The underutilized computer lab is being converted to a new modern classroom with upgraded projector, screen, and furniture.
Location:
Bissett School of Business, EB1112
Start:
April 2019
Anticipated completion:
August 2019
The EB1112 computer lab and study space will be converted to a data analytics lab available for over 1,000 students enrolled in business school programs and other professional programs. The Supply Chain Management program, through the sponsorship from CN Rail, will be the lead program to integrate data sets from the Thomson Reuters software.
12 new workstations and a teaching station will be installed, along will with new projectors and pull down screen. Signage, paint, minor flooring, and furniture will be upgraded.
Location:
Arts Building (EA)
Start:
July 2018
Anticipated completion:
June 2019
Designated classroom(s) in the Arts building (EA) will be fitted with movable classroom furniture to allow for innovative pedagogies and flexibility for workshops.
Location: Recreation, U180
Start: March 2018
Anticipated completion: August 2019
The existing storage space of Cougars Athletics (U180) is being transformed into a varsity strength and conditioning space for MRU's 165 student-athletes.
Location:
T intersection between Riddle Library & Learning Centre, Conservatory, and Arts Building
Start:
June 2019
Anticipated completion:
July 2019
Installation of three new underground water valves in the T-intersection between the RLLC and EA as the existing valves have reached their lifecycle.
See schedule and impacts
here
.
Location: Across Campus
Start: January 2019
Anticipated completion: August 2019
Installation of nine help phone stations - called Code Blues - that connect directly to Security dispatch for immediate response.
Locations include:
• (2) Riddell Library & Learning Centre
• (1) East Entrance by Lot 6A
• (1) East Residence
• (1) Lot 5
• (1) East Gate Entrance
• (2) Near West Residence
• (1) West Transit Hub / Lot 2