Congratulations, class of 2023!
Inspirational graduates show strength and authenticity towards reaching their goals
Michelle Bodnar — Mount Royal University | Posted: June 2, 2023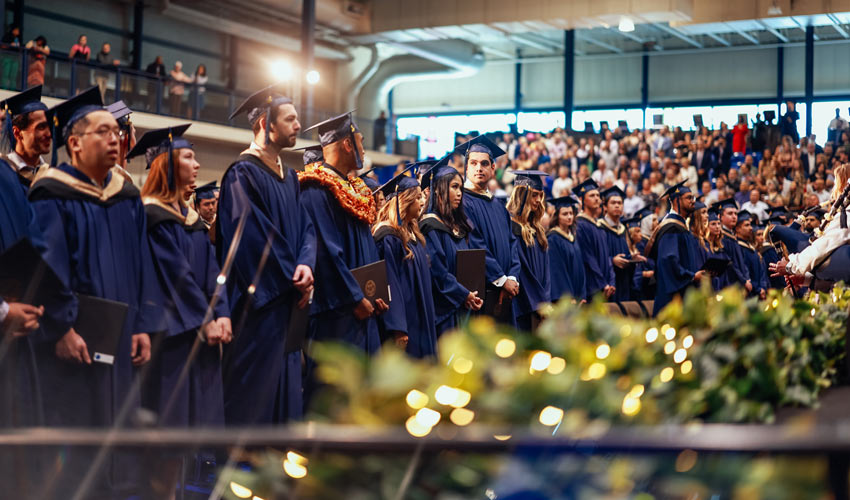 New graduates poised to make a difference in their communities and the world.
---
Page contents
Mount Royal University was proud to see more than 2,200 graduates complete their degrees and diplomas this academic year — one of the largest graduating classes ever. From May 30 to June 2, six ceremonies celebrated Mount Royal's newest alumni, who were joined by their supportive friends and family and cheered on by faculty members and employees. Crossing the stage during the ceremonies were 1,578 former students, all of whom join the MRU alumni family of more than 115,000 strong.
It was not a "farewell," however, but more of a "until we meet again," as all alumni are encouraged to stay in touch and keep accessing the resources MRU provides.
You always belong here!
Congratulations to the 2023 Governor General's Award recipients
The Governor General's Academic Medal, established in 1873, is one of the most prestigious awards that can be earned by a student for exceptional academic achievement in a Canadian educational institution. On behalf of Her Excellency, the Right Honourable Mary Simon, governor general, Mount Royal University is pleased to congratulate Donald Golden and Hallie Lindstein for their outstanding achievements.
Donald Golden was awarded the Silver Medal for achieving the highest academic standing of all graduates in a degree program. Golden graduated with a Bachelor of Health and Physical Education — Athletic Therapy and a cumulative GPA of 4.00.
Hallie Lindstein was awarded the Bronze Medal for achieving the highest academic standing of all graduates in a diploma program. Lindstein graduates with a Social Work Diploma and a cumulative GPA of 3.95.
Congratulations to the 2023 Centennial Gold Medal recipients
The Centennial Gold Medal award is patterned after the Henry Birks and Sons Gold Medal, which was Mount Royal's highest award for student academic achievement from 1935 to 1985. The medal commemorates a deep tradition of academic achievement and leadership at Mount Royal.
Professor emeritus
As a multiple-award-winning poet, essayist, editor and educator, Dr. Richard Harrison, PhD, enriched the literary education of Mount Royal's students for 25 years during his tenure as a professor of English teaching composition, creative writing (poetry), comics and graphic novels. His work, which covers a wide range of topics from the light-hearted to the most serious, has been published, broadcast and displayed around the world, and his poems have been translated into many languages including French, Italian, Farsi and Arabic.
In 2017, Harrison received the Governor General's Literary Award for Poetry and the Stephan G. Stephansson Alberta Poetry Prize for his work, On Not Losing My Father's Ashes in the Flood.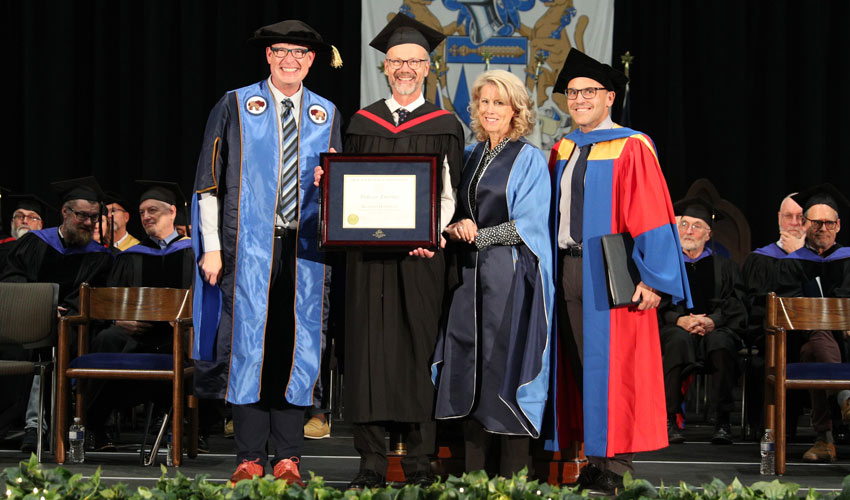 Dr. Richard Harrison, PhD, received the Governor General's Literary Award for Poetry in 2017. 
---
Harrison completed a Bachelor of Science in biology and Bachelor of Arts in philosophy from Trent University before earning a Master of Arts — English from Concordia University. After being invited to serve as the University of Calgary's Distinguished Writer-in-Residence in 1995, Harrison began teaching English and creative writing at Mount Royal.
The 2023 Convocation ceremonies at a glance
As always, Convocation officially commences with an announcement by MRU's chancellor, Dawn Farrell. Farrell was the president and chief executive officer of TransAlta Corporation from 2012 to 2021 and currently serves as president and chief executive officer of Trans Mountain Corp.
Elders from the Mount Royal community provided blessings at the beginning of each ceremony, wishing the graduates well on their next journey. Elder Roy Bear Chief (Espoom Tah) of the Siksika Nation, who works with MRU's Department of Child Studies and Social Work, is a graduate of MRU's Social Work Diploma program. Bear Chief, who received a Lifetime Distinguished Achievement Alumni Award in 2021 said, "It's your day. It's your time. And you deserve it. But don't forget the journey within. The journey that each one of you took."
Echoing that Convocation is a time to recognize the remarkable accomplishments of the graduates, MRU's President and Vice-Chancellor Tim Rahilly, PhD, said, "You have all reminded me that the pursuit of higher education is a very vulnerable process."
Students are asked to get comfortable with being uncomfortable while being immersed in an environment with new people with whom they must collaborate while constantly being in a position of not having the answer.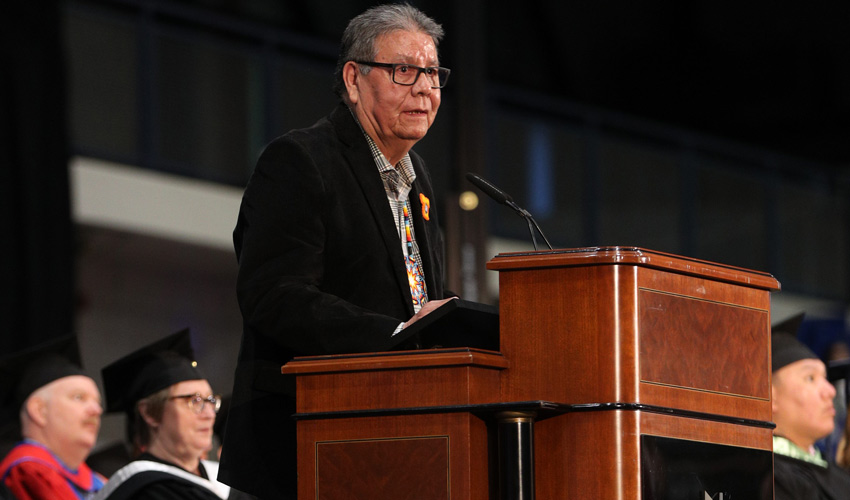 Elder Roy Bear Chief (Espoom Tah) of the Siksika Nation addressing the graduates. 
---
"This is how we learn something new, after all," Rahilly said.
"I am very familiar with the excellence found within MRU students, and so are all of you, because you exemplify it."
Before presenting each honorary doctorate, Farrell also addressed the new alumni.
"Today, you move from 'getting ready' to 'being ready,' " she said. "I am enormously grateful for the insights, the ingenuity and the worldliness of our graduates. You are all employable and you are strong thinkers and problem solvers. Your energy and creativity are needed more than you know here in Alberta, across Canada and around the world."
While commenting on the various abilities of the new alumni, who are already making a difference in their communities, Farrell said, "You are individuals who stay true to yourselves while you act on society to be better. Please, use your education from this great university to live your life with passion and purpose and to only do good. Be only a leader in all that you take on … and leave your mark by continuing to be yourselves while changing who we can be as humans when we do our very best."
Indigenous Honouring Ceremony May 30
On May 30, family, friends and Mount Royal community members gathered to recognize the University's Indigenous students who obtained a degree or diploma this academic year during the 15th-annual Indigenous Honouring Ceremonies. Forty-four self-identified credit students achieved this milestone, with an additional seven students from the Indigenous University Bridging Program also attending.
To begin, graduates carried in the host nations' flags while accompanied by the acclaimed drum group, the Sorrel Riders.
The master of ceremonies at the Bella Concert Hall was Marija Small Legs (Piikani), MRU's Iniskim Centre's student success coordinator. Elder Miiksika'am (Clarence Wolfleg) then shared the stories that make up his "life journey" or "way of life," which is called a niipatapisinii in the Blackfoot (Siksika) language.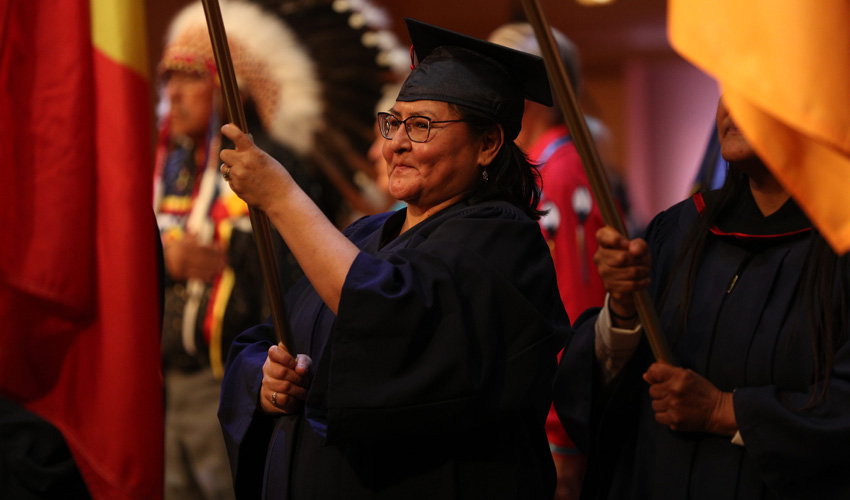 Graduates carrying in the host nations' flags while accompanied by the acclaimed drum group, the Sorrel Riders.
---
In his blessing, Miiksika'am, which means Red Crane, called the graduates the "leaders of the future," and advised them to always advocate for themselves through those in power for what they want to see in the world.
President and Vice-President Tim Rahilly, PhD, addressed the crowd after recognizing the traditional lands upon which the University stands. He said, "I think about Mount Royal, and its history, and the reminders that reconciliation is ongoing. I understand the need to build space for listening and for conversation, and for learning and for growth."
John Fischer (Cowessess First Nation), MRU's interim associate vice-president, Academic Affairs Office, Office of Indigenization and Decolonization, said, "We refer to education as the 'new buffalo.' The buffalo is what leads us to a good life. Buffalo provide food, shelter and clothing. Education can do so too, as well as additional riches that we pick up and carry on our way through our educational path."
As many of the new graduates were the first in their families to attend a university, Fischer commended them on what he considers acts of decolonization.
"You are helping to change the role of education away from a tool of assimilation to a role that empowers us as people."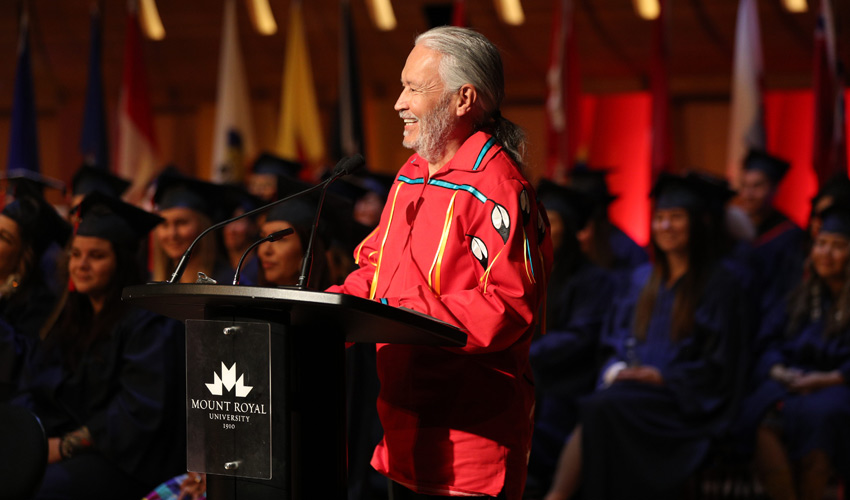 John Fischer (Cowessess First Nation), MRU's interim associate vice-president, Academic Affairs Office, Office of Indigenization and Decolonization.
---
Those of Métis descent received a sash along with their certificates or parchments, while eagle feathers were bestowed upon First Nations graduates. Students who graduated from degree, diploma and certificate programs were also blanketed with Pendelton blankets featuring a white buffalo motif.
Many Indigenous graduates wore traditional regalia to the ceremony in place of or in addition to their cap and gown.
Watch the 2023 Indigenous Honouring Ceremonies here.
May 31 morning ceremony — Faculty of Business and Communication Studies
Departments of Accounting and Finance, International Business and Supply Chain Management, and the Aviation Diploma
The honorary doctorate recipient representing the Faculty of Business and Communications Studies was Nancy Southern.
Born-and-raised in Calgary, Southern attended Mount Royal and the University of Calgary before joining her family's business as a member of its Board of Directors. She is now chair and chief executive officer of ATCO.
In addressing the students, Southern said, "Truly, it is my privilege to stand before this assembly of brilliant minds — graduates who have braved countless challenges and conquered new and unfamiliar academic heights to earn your place in history. I am humbled to be in the company of such an exemplary graduating class, and to be made part of the incredible community and legacy here at Mount Royal University."
Southern's business acumen and leadership abilities have led to her being named to Fortune's list of the "50 Most Powerful Women" outside the United States in 2016. In 2022, she was awarded the Business Leader Lifetime Achievement Award from the Canadian Chamber of Commerce.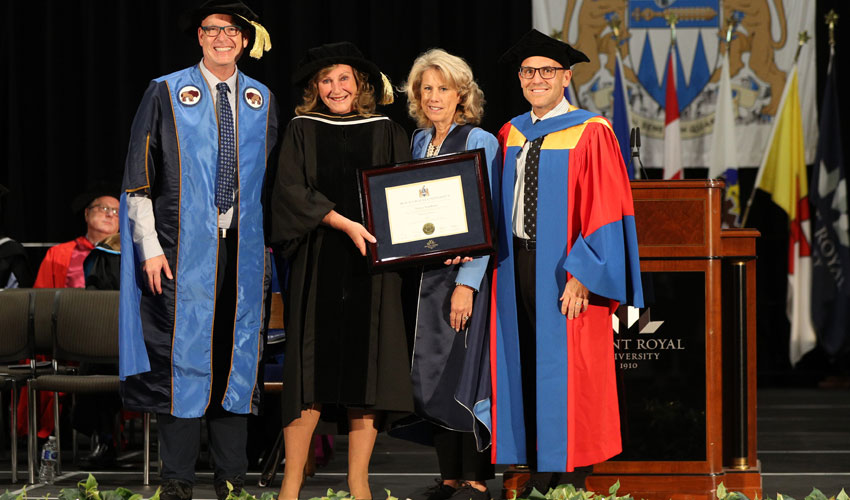 An Honorary Doctor of Laws was bestowed upon Nancy Southern.
---
In her speech, Southern pointed to the humble beginnings of ATCO, which began at the kitchen table of a small bungalow more than 75 years ago by her parents, grandparents and friends.
"They were a remarkable group of young individuals whose combined talents had the power to change the world — much like all of you."
The group shares three key virtues with the graduates that served them well: courage, determination and imagination.
Southern also advised the crowd to prioritize indigenization and reconciliation and equity, diversity and inclusion in their work.
"You possess a unique ability to affect change, to leave an indelible mark on the world. Embrace this profound responsibility with humility and with grace, for now, more than ever, the world needs leaders who can blend compassion with ambition.
Read more about Nancy Southern.
Bachelor of Business Administration — Supply Chain Management alumnus Adam Abou-Dehn also addressed the new alumni. After working in supply chain management, Abou-Dehn became a venture leader at Creative Destruction Lab and now supports businesses with commercialization and technology development.
"At Mount Royal, you experienced diverse outlooks and cultures, you broadened your perceptions and absorbed new perspectives, you learned from and alongside incredible professors and nurtured lifetime friendships," Abou-Dehn said.
It is now time to move through life "with courage and with authentic purpose," he said.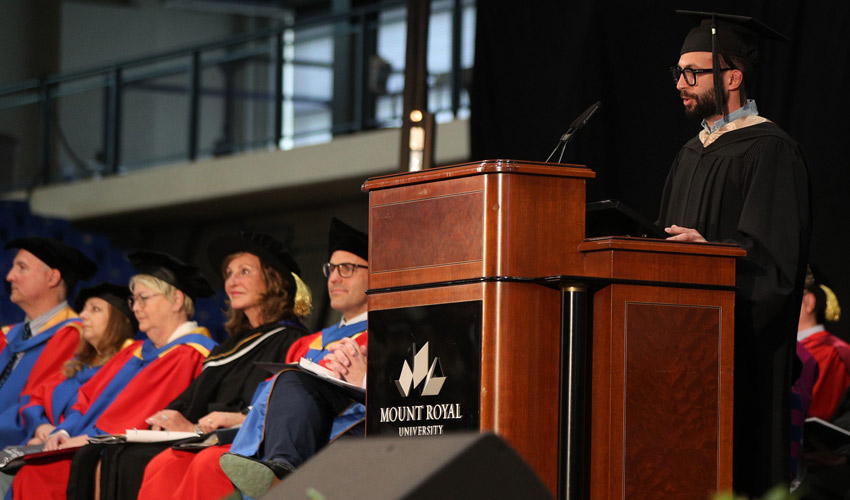 Bachelor of Business Administration — Supply Chain Management alumnus Adam Abou-Dehn addressed new MRU alumni during the first Convocation ceremony.
---
"Face and accept your doubts and uncertainties head-on. They are the drivers for you to keep learning and growing."
Passionate about innovation, sustainability, art and music, Abou-Dehn left the graduates with three guiding principles to consider as they progress through their careers.
"Have the humility to acknowledge that you don't know it all and take the time to stop, listen and learn. Respect all people you will meet along the way. Respect yourself. Never shy away from doing what is right.
"Finally … the world is yours, but it is not yours alone."
May 31 afternoon ceremony — Faculty of Business and Communication Studies'
Departments of General Management and Human Resources, Entrepreneurship, Marketing and Social Innovation, and the School of Communication Studies
Leslie O'Donoghue was the Honorary Doctor of Laws recipient representing the Faculty of Business and Communication studies the afternoon of May 31 in recognition of her dedication to uplifting women in business and commitment to give back as a leader.
O'Donoghue is currently a corporate director with DYE & Durham and a longtime independent director with Pembina Pipeline Corporation. She has held many senior corporate positions, including leading business development and strategy as a partner with the law firm of Blake, Cassels & Graydon LLP.
Beginning by greeting the graduates and thanking the University for being bestowed an honorary doctorate, O'Donoghue noted that while there may be some uncertainty among the new graduates, there is also a positive expectation of what lies ahead.
"You have faced your fears, you have shown resilience, you have learned to take risks and you have trusted in your colleagues. It might not have felt like it at the time, but these triumphs will empower you and give you confidence going forward."
Acknowledged — four times — as a Top 100 Most Powerful Women by Canada's Women's Executive Network, while acting as an executive vice-president at Agrium O'Donoghue formed a Women's Inclusion Network to provide mentoring, networking and developmental opportunities.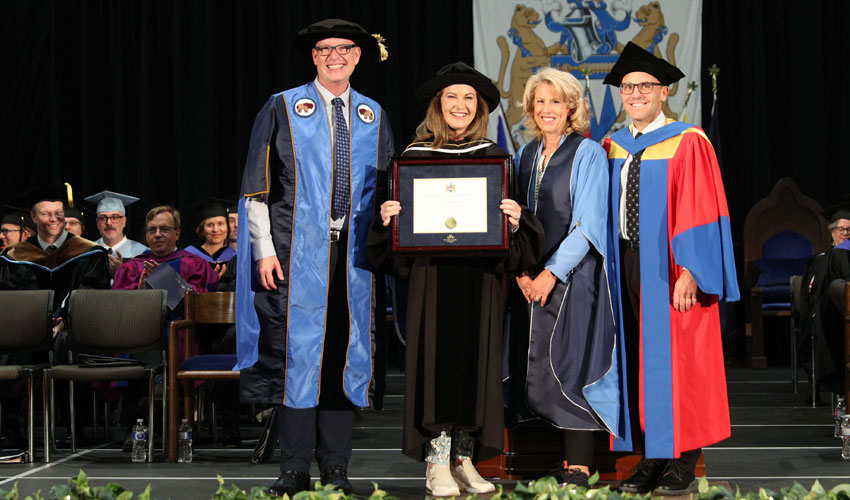 An Honorary Doctor of Laws was bestowed upon Leslie O'Donoghue.
---
"In community, we develop who we are and what we stand for," she said. "We build connections to something bigger than ourselves … And while it would be hard to think of and thank all those people who have been there for you … there is something you can do to show your appreciation.
"Pay it forward by giving back."
A volunteer with the Calgary United Way for many years, in 2012 O'Donoghue was chair of their annual fundraising campaign when she was offered the opportunity to participate in a poverty simulation, where she discovered how brutally stressful it can be to navigate support systems.
"It was very sobering, given that my experience in that simulation is a daily reality for many.
"But I learned a valuable lesson: by seeing the vulnerability in others, we learn to accept our own vulnerabilities. I call this cultivating a culture of support, and it happens all over — at home, at school, at work and in the community.
"Wherever you go, whatever you do, connect to the people around you. Learn about them, get to know them, make a difference in others' lives, and I promise you you'll make a difference in your own."
Read more about Leslie O'Donoghue.
Bachelor of Communication — Public Relations alumna Tomi Ajele returned to her alma mater to provide some words of wisdom to the new graduates. Ajele is the editor-in-chief at Afros In Tha City, partnerships and engagement manager at Apathy is Boring, an Avenue magazine "Top 40 Under 40" recipient and an MRU 2023 Outstanding Alumni Award nominee.
Ajele began by reminiscing about her time at MRU, where she "was exposed to just how much I could learn if I chose to, and it was so empowering."
"It was the professors in my program, and the exceptionally creative people I was surrounded by, that inspired me to show up in spaces as my best self and gave me confidence in my own creativity."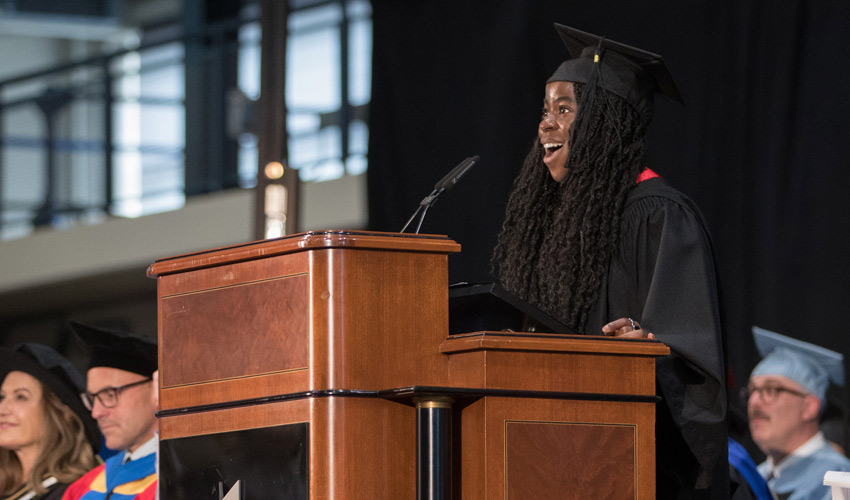 Bachelor of Communication — Public Relations alumna Tomi Ajele shared some words of wisdom with the new graduates on May 31.
---
Having now earned her Master of Public Policy from the University of Calgary, Ajele advised the alumni to take control of the power they have.
"In reality, as a new alum, you are in a uniquely powerful position because you have all of this institutional knowledge, but you don't carry the baggage of the industry you'll be working in.
"This gives you the power and perspective to bring forth innovation and ask questions that drive meaningful change. Your boldness will make spaces so much better."
June 1 morning ceremony — Faculty of Health, Community and Education
Honorary doctorate recipient Dr. Donald Noel Baker, PhD, served as president of Mount Royal College from 1980 to 1989. During this time, he led Mount Royal through a critical period in its history — a time when radical change was necessary to meet financial challenges. His leadership is often credited as the catalyst that eventually led to Mount Royal's transition from a college to a university in 2009, and he chronicled the entire journey in his book Catch the Gleam: Mount Royal, from College to University, 1910-2009.
In 2001, Baker was appointed executive director of Ontario's Post-Secondary Education Quality Assessment Board, a then-new agency responsible for assessing proposals for degree programs and universities. That led to invitations to undertake projects in the Middle East. After stepping down as executive director, Baker served in various senior administrative or management consulting roles in the United Arab Emirates and Qatar. His history of Qatar University, the first history of a Gulf national university, will appear later this year.
In addressing the Faculty of Health, Community and Education students, Baker pointed to changing technologies that will have an effect on the graduates' future careers, leaving them to "live in interesting times," as an old Chinese proverb once said. One of those is the advent of artificial intelligence (AI), about which Baker said, "I hope your education has prepared you to cope with accelerating change. I spent fifteen years in higher education in traditional societies that are rapidly modernizing. Their traditional education looked to the past, perpetuated the existing order and was deferential to authority in all realms.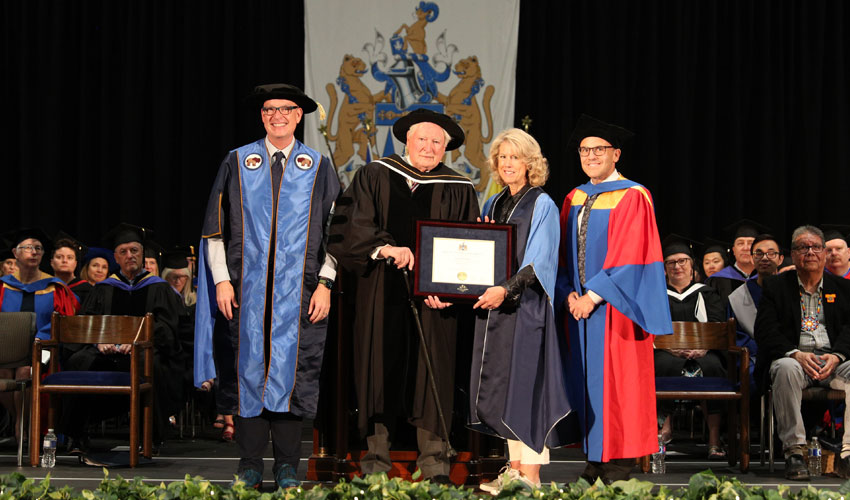 An Honorary Doctor of Laws was bestowed upon Dr. Donald Noel Baker, PhD.
---
"By contrast, at least in theory, modern education builds the capacity for critical and creative thinking, challenges received wisdom, looks ahead, stresses individual achievement and prepares students for life in a rapidly changing society. This is because modern societies are organized to induce persistent and pervasive change."
AI is "rapidly transforming economies and societies," Baker said, and changing the nature of work in many fields. He then quoted Malcolm Gladwell's work, Outliers: The Story of Success: "We must beware that in our attempt to make computers think like us we do not end up thinking like them."
Saying that is very difficult to see far ahead, as he could not have predicted his own career path, Baker said, "My final hope is that you will use your education to make the most of your life. We pass this way only once. There are no do-overs. Don't let yourself be paralyzed by fear of failure, by dogma, or by the opinion of others. If you take calculated risks, you can enrich your life."
Read more about Dr. Donald N. Baker, PhD.
Bachelor of Health and Physical Education — Sports and Recreation Management alumnus Manny Yellowfly acted as the MRU alumni speaker for the June 1 morning ceremony. Yellowfly manages the fitness centre at the Seven Chiefs Sportsplex and has worked on projects within sports and recreation that benefit Indigenous communities through partnerships with the Hitmen and the Flames.
Yellowfly began his post-secondary education as a dad to two girls, and had many doubts, he said.
"I had to navigate the system as an Indigenous person, which meant I was restricted to certain things that affected my financial situation. I was also facing many of my own challenges at the time. I often looked at my peers that were working in the oilfield, wondering if I better go there instead. I wondered if I should abandon my passion for what seemed easier, and more lucrative, at the time."
Bachelor of Health and Physical Education — Sports and Recreation Management alumnus Manny Yellowfly was the MRU alumni speaker for the June 1 morning ceremony. 
---
It was worth it to stay and try, he said.
"The fact that I'm here speaking to you all today is a bit of a full-circle moment for me and is a testament to the skills I learned during my time at Mount Royal."
MRU taught Yellowfly to communicate professionally and in a way that other people can understand, speak for himself and do so with confidence, and to present in front of a crowd without being nervous.
"There were many times during my degree where I had to be vulnerable, put my pride aside, and admit I needed support. Now, at work, it's a superpower. By finding the right people or right information to help, I've been able to excel at work and really find my purpose."
Yellowfly advised the graduates to continue reaching out to professors and the "powerful" MRU community.
"The future is bright for all of you. And if it ever seems dim, just remember you have a university community next to you, ready to support."
June 1 afternoon ceremony — Faculty of Continuing Education and Extension and the School of Nursing and Midwifery
In front of graduates from the Faculty of Continuing Education and Extension and the School of Nursing and Midwifery, Mount Royal University bestowed an Honorary Doctor of Laws on Bruce Starlight (Dit'oni Didlishi — Spotted Eagle). An Elder of the Tsuut'ina Nation and one of the last fluent Tsuut'ina speakers, Starlight has served in many capacities, including as a student of and teacher, mentor and advisor to Mount Royal.
A well-known advocate of cross-cultural awareness, Starlight is a member of MRU's Traditional Thinkers Advisory Council for the Office of Indigenization and Decolonization. In 2022, he and his family gifted a tipi and tipi knowledge to MRU and share that knowledge with schools.
As he received his advanced education later in life, it is fitting that Starlight received his honorary doctorate in front of continuing education students. He said, "Struggles to reach end goals are most rewarding when we actually get to see the light at the end of the tunnel. Along the way to our dreams, we falter and often want to throw in the towel. In the end we continue, as life's journey is not easy.
"You made it and now the real journey begins."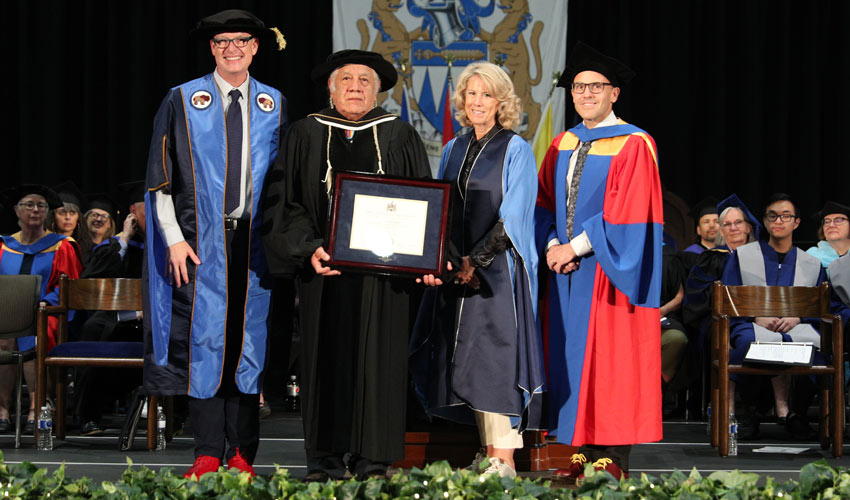 An Honorary Doctor of Laws was bestowed upon Bruce Starlight (Dit'oni Didlishi — Spotted Eagle).
---
Saying he was proud to carry yet another new title, Starlight was the first elected Indigenous director of the Calgary Stampede Board of Directors after serving as the first Indian Events Committee chairman. In 2005, Starlight was one of 100 people in Alberta to receive a Citizen of the Century Award. He is also an advisor to the worldwide Planet Youth movement.
"Whatever happens, tomorrow is now up to you. You have the ability now to move forward with your education. I wish you all good luck in your endeavors. It took me a lifetime but I did it."
Among the most important recognitions of his life was being made an Elder in his community to show young people the value of their culture. Starlight told the new alumni that they, too, have their own culture.
"Use it. Use it to make your life goals real, and when you have a family, teach them what you learned."
Read more about Bruce Starlight.
Bachelor of Nursing alumna Andrea Locke was also on hand to speak to the new alumni. After earning her Master of Arts, she is now director of consulting services at CGI and blends her nursing background with technology to support health clients.
Locke shared that upon graduation she struggled with imposter syndrome, however MRU taught her to "be bold, and to lead with boldness."
Passionate about women in leadership, mentoring and solving problems with innovative thinking, Locke's newfound fearlessness led her to at one point call the chief executive officer of Alberta Health Services to share ideas on how the nursing profession could innovate for the better of Albertans.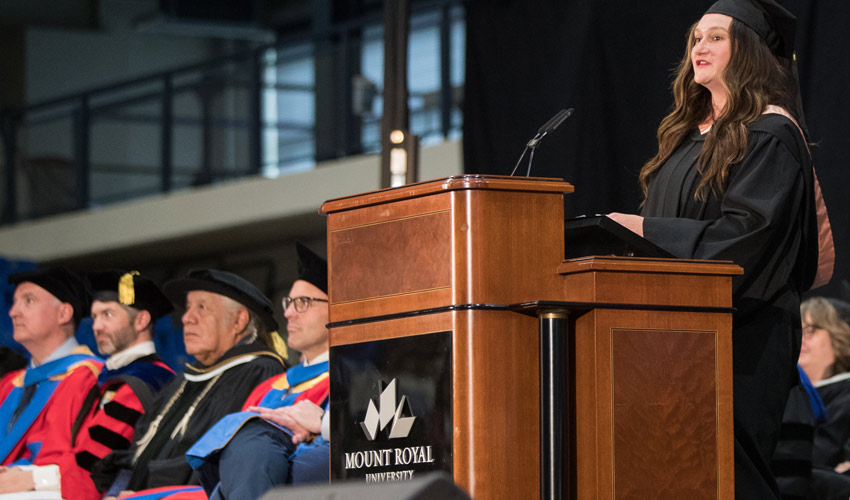 Bachelor of Nursing alumna Andrea Locke speaks to the new University alumni.
---
"I had to gain the confidence to advocate for myself, and I had to believe that the worst someone could say was 'no.' "
The ability to be open to others and take hold of opportunity led her to where she is today, she said.
Locke finished with congratulations, saying, "There are few things in life as monumental as this moment. I encourage you all to stay open and curious.
"Even if you think you know how you want your life to work out, be open to it being even better than you imagined."
June 2 morning ceremony — Faculty of Arts' Department of Economics, Justice and Policy Studies and the Faculty of Science and Technology
Gen. John de Chastelain was once a student at Mount Royal College's original campus in downtown Calgary after immigrating to Canada from Scotland with his family. Beginning a lifetime of service, he enlisted as a private with the Calgary Highlanders before transferring to the full-time Canadian Armed Forces. Over the years he would steadily climb the ranks.
In 1989, de Chastelain was promoted to general and appointed chief of Canada's Defence Staff. He held that position until 1996, save for a period when he served as Canada's ambassador to the United States, a post usually reserved for high-ranking diplomats.
In April 1998, de Chastelain was involved in assisting to accomplish the passage of the Good Friday Agreement, which put an end to sectarian violence in Northern Ireland. He then spent the next fifteen years helping to implement that agreement, including supervising the decommissioning of paramilitary arms.
In his address to the graduates of the Department of Economics, Justice and Policy Studies and the Faculty of Science and Technology, de Chastelain said, "When I first came to this country I was not sure what I was going to do. It was only through my association with Mount Royal that I went on to become a member of the armed forces."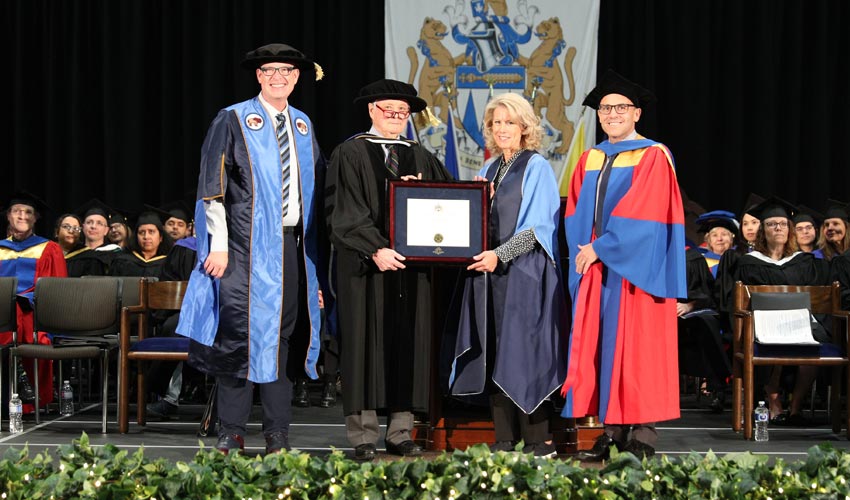 An Honorary Doctor of Laws was bestowed upon Gen. John de Chastelain.
---
de Chastelain reinforced to the new alumni that the most important thing in life is to always have confidence in yourself, regardless of what is being asked, and to remember and rely on the leadership received from parents and friends.
"If you dig deep inside yourself, you will find yourself able to do things that you may have never believed you were capable of."
As the graduates are now in leadership roles, they will be called upon to do some very difficult things and make some very difficult decisions, de Chastelain said.
"You may question, 'Am I really capable of doing that?' And my answer is, 'Of course you are.'
"Just remember what you learned at the hands of your parents, friends and your fellow graduates, and whatever you do will be the right thing. If you lack that confidence in yourself, don't do anything, because you can only cause trouble."
All the graduates have reasons to be confident in themselves because of what they have achieved to receive their degrees. But there remain challenges ahead, he said.
"The world is not getting to be an easier place to live in. You're going to be called on to make decisions to make sure that it continues as peaceably, as profitably and as enjoyably as possible. I wish you much success in doing that."
Read more about Gen. John de Chastelain.
Bachelor of Science — Cellular and Molecular Biology alumnus Daniel Major closed out the ceremony after the graduates had received their parchments. With a passion for social innovation, Major uses creative disruption to implement systems-level change in health care. His efforts focus on inspiring and educating medical students on advocacy, systems-thinking and social accountability.
Major's MRU journey was his second attempt at post-secondary education.
"While I knew I wanted an admission to medicine before it began, I don't think I was ready until after it was over," Major said. "It was a powerful experience, as I realized that there was nothing that I couldn't learn. And with that, nothing that I couldn't do."
Now finished his second year of medical school, Major said he has been wondering how he is going to make a contribution while feeling that he may not necessarily belong.
"If you're feeling that, I encourage you to linger with it and reflect on it for a while. To emerge from it, though, will take vulnerability," he said. "In my mind, vulnerability itself isn't an issue to be overcome — it's an action that demonstrates your own authenticity — and it is your gift to give."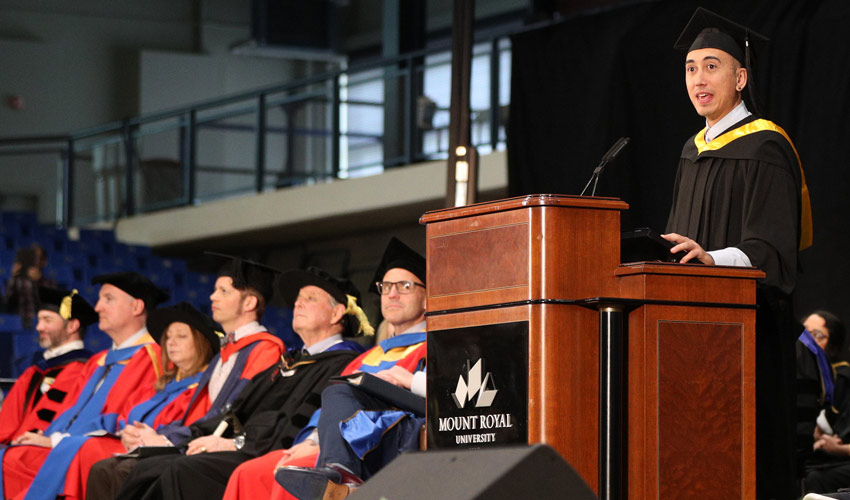 Bachelor of Science — Cellular and Molecular Biology alumnus Daniel Major.
---
Vulnerability allows individuals to challenge discrimination and oppression, create meaning and become comfortable with showing one's true self, thoughts and feelings, Major said.
"It is also important to balance what is practical with what is possible. Your education has given you a foundation of practical skills you need to be successful. But, it is your own boldness that will help you to find what's possible."
Graduates have tremendous opportunities and adventures ahead, but are also up against "big, complex, systemic problems." It is up to the new alumni to look deeply and challenge those structures, Major said.
"It is vital, now more than ever, to be stewards of quality information and be the filter the world needs to maintain healthy discourse, engage in respectful dissent, and, when necessary … participate in revolution.
"The world needs you now, more than ever. Wonder what you want, find your purpose and express your authenticity. What the world needs is inside of each one of you."
June 2 afternoon ceremony — Faculty of Arts and the Bachelor of Interior Design
The final honorary doctorate recipient of the 2023 Convocation ceremonies was Cheryl Foggo, a noted author, researcher, journalist, playwright and filmmaker whose work and career have focused on sharing the stories of her ancestors and others in Alberta and the prairies' early days.
A Calgarian whose family roots connect to the Black pioneers who came to the province in the early 20th century, Foggo has celebrated Black and mixed-race Canadians through her novels, films, plays and editorial and public-speaking work. Nationally recognized and the recipient of more than a dozen awards, Foggo is perhaps best known for her efforts to highlight the contributions and challenges faced by early Black residents in Alberta.
Even with all her awards and accolades, Foggo told the Bachelor of Arts graduates that the ceremonies' themes of vulnerability and confidence resonated deeply with her.
"I walk within and beside both concepts every day," she said.
"I can attest to the truth that artists face vulnerability on every project from beginning to end. The act of creation requires a person to face nothingness. The screen is blank, there is a bare canvas, an empty stage, a musical notation book containing zero quarter notes and arpeggios. Still, we push through that void, we face it. We visit the private chambers of our hearts and begin a process, sometimes a long process that, if you're like me, has many points of doubt and vulnerability along the way before it becomes a work.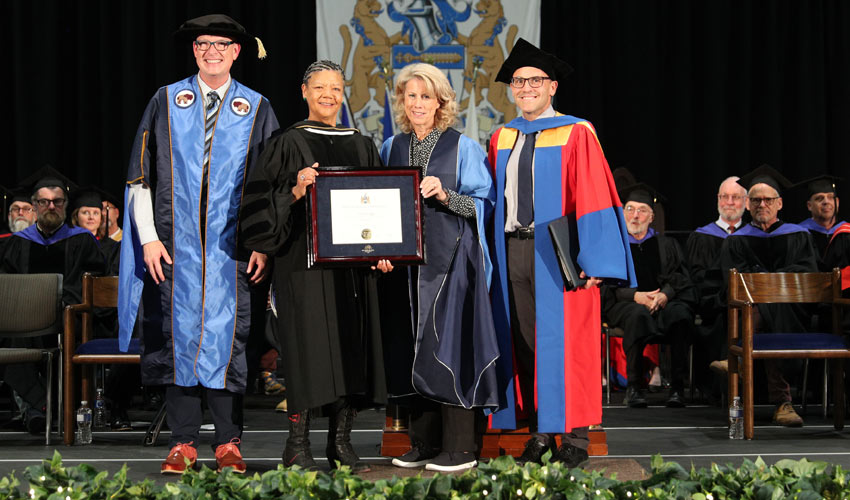 An Honorary Doctor of Laws was bestowed upon Cheryl Foggo.
---
"You've probably seen those memes that writers send around to each other, demonstrating how we vacillate between thinking, 'Yes, I'm really nailing this,' to, 'A pine cone could have written a better script.' But, finally, something is there. That's when the public vulnerability begins. You offer it to the world. It might result in triumph. It might not. And the truth is, you can never know ahead of time which it is going to be."
Careers in the arts require balance between humility and boastfulness, as egos take many hits, however there are times when they are boosted.
"Making something I believe in, something that I am confident in, matters. I don't try to pass myself off as falsely humble, nor do I think of myself as boastful. But I am confident. I have never regretted my choice to pursue a career as a writer. Not once."
The arts nourish and rejuvenate Foggo daily, she said, and that the turning points in her life have all been inspired by works of art, be it a song, a film or a book.
"The most grounding force in my life, apart from family, is art. I became a writer because other artists had the courage and the confidence to make something out of nothing, and they have inspired me to commit. Their offerings got through to me. I'm so grateful to artists.
Wishing the graduates the very best, Foggo said, "What a joy to receive this honour from this wonderful institution. Mount Royal University, thank you. I don't take this lightly and I will carry this honour proudly."
The final alumni speaker of the 2023 Convocation ceremonies was Shifrah Gadamsetti, who graduated from Mount Royal in 2014 with a Bachelor of Nursing and a Bachelor of Arts — Sociology with a minor in women and gender studies in 2020. She then went on to earn a master's degree in political management.
A past Students' Association of Mount Royal University president and member of MRU's Alumni Council, Gadamsetti champions civic engagement, public health and communications. She is a government relations and research consultant at Summa Strategies Canada and a board member for YWCA Canada.
"MRU helped me garner the skills, friendships, and curiosity that has led me through — and to — the life I'm so grateful for today."
One piece of advice Gadamsetti wished to impart upon the graduates was to, "Lean in … and I mean, really … lean in to your fears.
"Take risks. Even when you're scared, and open yourself to the unnerving feeling of vulnerability."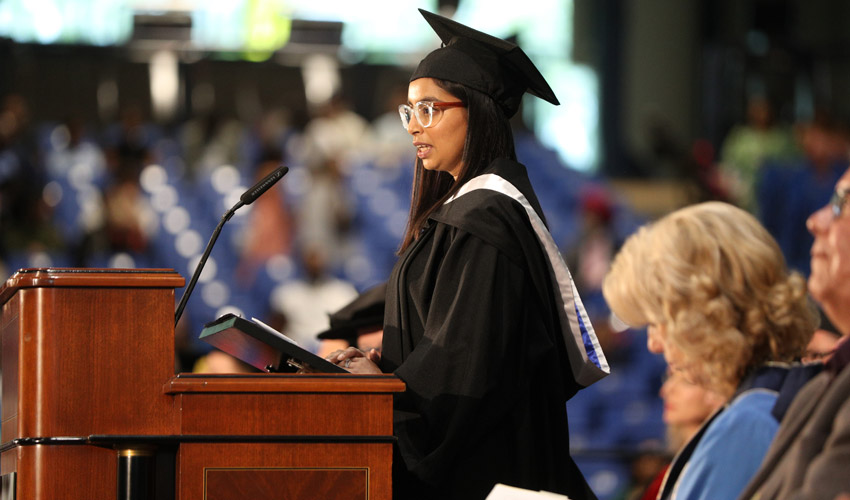 Alumna Shifrah Gadamsetti speaks to the new alumni on June 2.
---
The low points in life are what shape people more than the highs, Gadamsetti said, and are what teaches how far an individual can go. The graduates should be extremely proud of how far they have come.
"It's not just about being the best version of yourself. It's about opening yourself up to new possibilities and new people, too."
Once they have crossed the stage, the new alumni become part of a broader university community that is invested in their success. The MRU alumni community.
"What you've shared here is unique, and it doesn't end when you graduate," she said.
"Your friends, family, and everyone here today, including me, are so proud of you, and we're excited to see what you accomplish.
"Congratulations class of 2023!"
Alumni, you always belong here at MRU! Find out what supports and opportunities are now available to you through MRU's Office of Alumni Relations.